Welcome to Class Willow!
We are a mixed class of Year 1's and 2's. On our page you will find lots of important information and get to see of all of the exciting things we get up to in 1 /2 Willow.
In 1/2 Willow we work hard, even when things aren't that easy, and enjoy our learning.
We are extremely proud of our school motto:
DREAM BIG AND DARE TO FAIL!
And work towards this everyday.
We are making sure that we are being resilient learners this half term and if we are struggling we say " I can't do it yet".
---
Important Information
Outdoor Classroom Day
On the 22nd of May we took part in National Outdoor Classroom Day. We had all of our usual lessons outdoors! For English we reread our book 'Meerkat Mail' and then spilt into groups. We were given a section from the book that we had to act out, at the end of the lesson we put all the parts together to make our own Meerkat Mail film. In Maths we looked at pictograms, we made a human pictogram to show our favourite colours. We then used chalk and the playground to draw pictograms to show our favourite subject and favourite pet.
Africa Day
On the 21st of May we had a very special treat, we had a visit from an African man who taught us how to play the drums and taught us an African dance. We had 2, 1 hour workshops to learn the new skills. At the end of the day we performed everything we had learnt to the rest of the school in assembly.
Mental Health Awareness Week
This week it has been Mental Health Awareness Week. On Wednesday we had an assembly with Miss Fisher where she told us about the different ways teachers look after their Mental Health and ways we can look after our own Mental Health. On Thursday we talked about the different things we do to make ourselves happy and what we do can do to help other people feel happy.
Through the Magic Window
Over the last couple of weeks in English we have been looking at a poem called 'Through the Magic Window'. This week we made our own magic window wheels. We have used them to think of different magical animals that we might see. We are then going to use them this week to help us write our warm and hot tasks using expanded noun phrases.
The Secret Garden
On Monday we had a special treat. M and M productions came back and showed us their performance of 'The Secret Garden'. We loved all the songs and acting.
My favourite part was when the boy learnt to walk

The best bit was when they sang the greatest showman song at the end
S

kills Day
On Wednesday 20th March we had a Learn a New Skill Day. Across Key Stage 1 we completed 7 different activities where we learnt lots of new skills. These were; Drama, French, Drawing, Break the Maths Code, Dancing, Face Painting and Netball. We had lots of fun learning these new skills and impressed the teachers with our resilience, when we didn't give up when it was hard at first.
In the afternoon we got visited by the Rapide Brothers who showed us lots of different circus tricks and then let us have a go at some too. Our favourites were the little bike and the spinning plates.
National Science Day 2019
On Friday 15th March we celebrated National Science Day. We had a day full of fun science experiments. We tried to mix colours without touching any of the colours ourselves, only using washing up liquid or kitchen roll. We then got to make our own Lava Lamps using water, oil and food colouring. It was amazing how the oil and water split and the tablet made all the bubbles. We also got to make some class slime.
We had lots of fun learning lots of new science vocabulary and theories.
World Book Day 2019
On the 7th of March we celebrated World Book Day. We all got to dress up as our favourite character from a book. We had some amazing outfit choices in 1 / 2 Willow, we all looked fantastic! First we had an assembly with Magic Tom, he performed some magic tricks for us and then later in the day come to 1 / 2 Willow to do some more. (We still haven't figured out how he did them) We then read the book "Room on the Broom". We sequenced the book, talked about the characters and then made and wrote some instructions for our own magical broomstick.
Multi Skills
On a Tuesday we are really lucky and are visited by a coach to do different P.E Skills. We have been working on balancing on one leg, stretching and throwing and catching. We are improving each week and are getting much better at balancing on one leg, we've been given helpful tips to use when balancing. We have even been practicing our times tables in multi skills by seeing have far we can count in 2's before loosing our balance.
This week our favourite part was trying to hit the balloons with a racket without coming off of our balancing strips (it was really tricky!)
Class Assembly
On the 13th February we had our class assembly. We enjoyed learning lots of information about Charles Darwin and the work he did. We shared everything we learnt with the rest of the school in our assembly.
"Well done 1/2 Willow, you were all very brave and we are so proud of you for standing in front of everyone and telling them what we had learnt" Miss March and Mrs Scholes.
Build a Bear Trip
On Tuesday 5th February we went on a class trip to Build a Bear in White Rose.We have been thinking about toys for our topic and have even made our own Bear Puppet. We went to Build a Bear to see how they make bears. We wanted to know the different stages of how a bear was made so we can use this to help us with our writing next half term. We made a class bear and have named her Willow, we chose lots of qualities we would like her to have and all gave her a cuddle to make her feel like part of our class. We had lots of fun learning all about bears.
NSPCC Number Day 2019
We had lots of fun on NSPCC Number Day trying to solve lots of different problems. We read the story 'The Shopping Basket' and then had to answer problem solving questions based around the book. We worked really hard and were very resilient when the problems were getting trickier. We then moved onto some harder problems which took us all afternoon to solve. We tried really hard all day!!
Lost in the Toy Museum
Over the last couple of weeks we have been doing lots of work in English based around our story 'Lost in the Toy Museum'. Today we looked at lots of questions we might ask the characters from our story if we could meet them. We arranged mixed up questions so that they made sense and then wrote our questions based on a picture we were given. We asked lots of really interesting questions. I wonder if we will get any of them answered.
Tricky Phonics
This week we have been really resilient in phonics as we have been learning some Phase 4 tricky words. We have learnt that some words end in a silent 'e' and that it is really easy to forget to put this on. We have practiced spelling these words in Phonics and English and are now spelling them right all the time.
Road Safety Week 2018
Today the Police have been to talk to us about being safe on the roads. They told us we need to be safe crossing the road, playing near the road and when we are in cars too.
We all know we need to be in booster seats when we go out in cars. We also know the Green Cross Code to help us stay safe when we cross the roads.
Children in need day fun
We had such a fun day celebrating and making money for Children in Need. We enjoyed our Pudsey art work in the afternoon so much.
An early Christmas present to the whole school!
We had a lovely time watching a pantomime together this morning. We even got to see Mr Wakefield and Mr Carbutt dancing! The show was so good. We sang and clapped along with the songs and laughed at the jokes.
Sporting Superstars!
On Thursday some of our brilliant Key Stage 1 children took part in a sporting afternoon at another local school. The children were a credit to themselves and the school. Have a look at some of the pictures that were taken...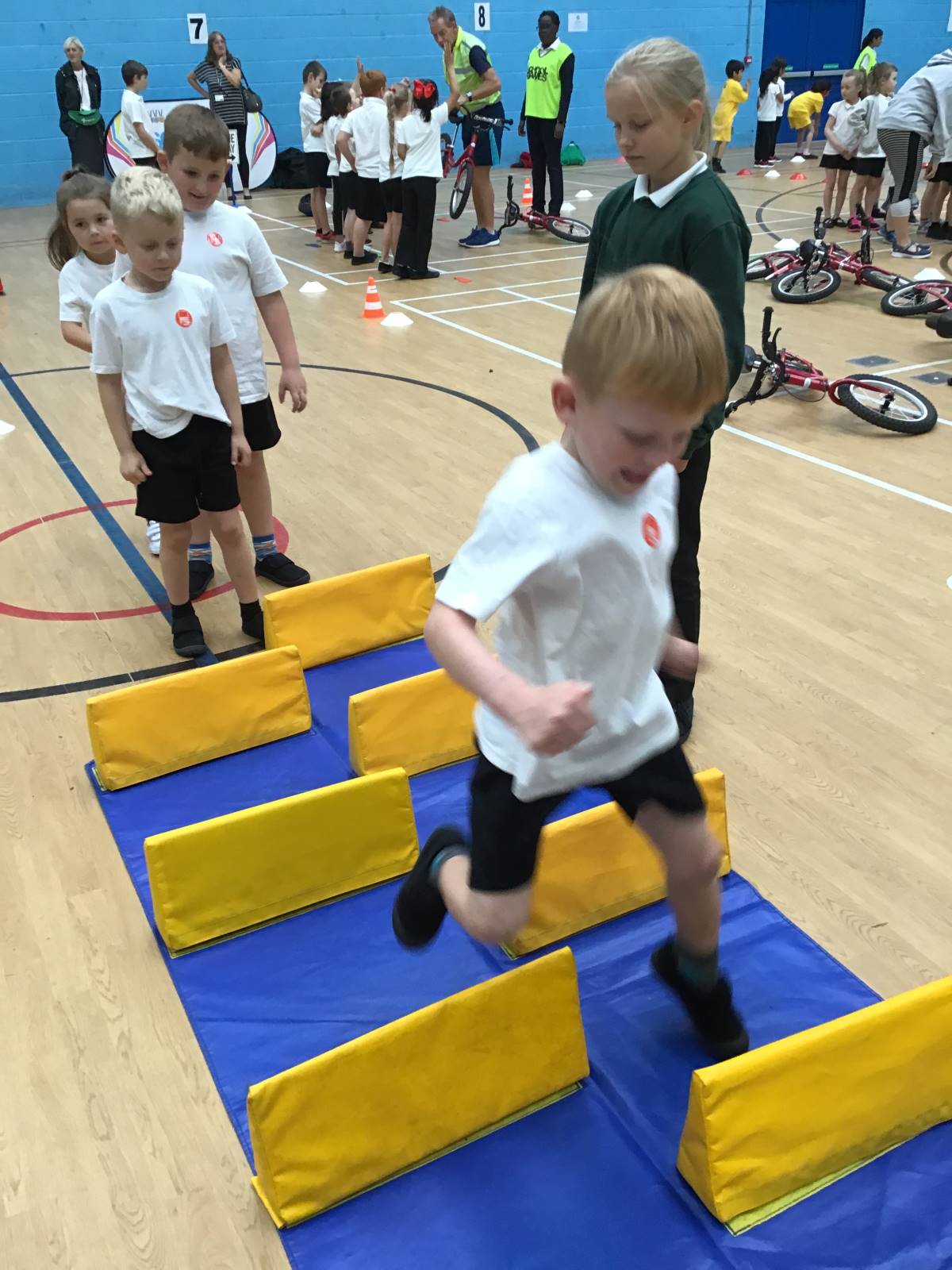 Helpful Websites
These are some of the websites we use in class and will be useful when learning at home.
Autumn is finally here and as part of our Geography and Science work we went outside to see what the new season has brought to Orchard! Here are some photos of what we found.
First Aid Training
Yesterday we had some first aid training from St John's Ambulance. Caroline taught us how to help somebody who had hurt themselves by checking for danger, putting injured people into the recovery position and when to call 999.
Have a look at our photos and if you ever need help in an emergency you know where we are!

Parts and Wholes - Maths 04.10.18
Today in Maths we were investigating parts and wholes. We made a whole using cubes and then split it into 2 parts. We then had to very carefully count the number of cubes in each part.
My whole is 8.

One part is worth 3. One part is worth 5.

Alfie
National Poetry Week!
This week is 'National Poetry Week' and in 1/2 Willow we have spent the afternoons looking at different types of poems.
So far we have looked at Acrostic poems and riddles. Here are some examples:
For the whole school poetry assembly on Thursday we are performing a verse of the poem 'Gran Can You Rap?'
Ola!
Yesterday was World Languages Day. Every class was given a country to work on and we were lucky enough to get Brazil! First we learnt some Portuguese, found Brazil on a map and labelled surrounding countries. Then we learnt about tribes that live in the Amazon rainforest and a day in the life of a child. We compared them to our daily lives and most of us decided we'd rather live here in Dewsbury. In the afternoon we learnt about the Rio Carnival. We made our own carnival masks and learnt to samba! It was very exciting.
A mysterious note!
This morning (Tuesday 18th September) we noticed something VERY unusual in our classroom! There was a message on the whiteboard from Nat Fantastic. Nat Fantastic is the superhero from the book we are working on in English. The message said that Nat has looked at our writing from that day and had decided that the best writer deserved to wear one of his awesome capes and a mask. The first person to be chosen was Emily! Who will it be tomorrow?...
He's behind you!
Yesterday (Thursday 20th September) we were really lucky at Orchard because we had a visit from a theatre company. The performance was called 'The Little Princess' and although it was really good fun it also had some important messages about bullying. Next week we are going to think about bullying a little bit more and how we can make sure it never happens at Orchard Primary Academy.