Welcome to 2 Beech's Class Page!
In 2 Beech, we are resilient, aspirational and show respect to those around us. We strive to do our best in each and every lesson. We like to be challenged! However, we understand that it is okay to make a 'marvellous mistake'.
On our page, you will see lots of exciting activities and lessons hat we take part in, information about anything that is happening in school, documents which show what we are doing in 2 Beech and so much more!
If you have any questions about our webpage, 2 Beech or school in general, please speak to Mrs Murphy at the beginning or end of the school day.
It's going to be a fantastic year,
DREAM BIG AND DARE TO FAIL!
Important Documents
Here are a couple of documents that you might find useful.
Newsletters
Dates For Your Diary
Tuesday 5th March - Pancake Day
Thursday 7th March - Bikeability
Friday 8th March - World Book Day
Friday 15th March - Science Day
Wednesday 20th March - Learn a New Skill Day
Monday 25th March - KS1 Assembly
Useful Websites
Here are a couple of websites that you might want to use at home.
We use them in class to support our learning.
Amazing Attenders!
Last week, we had the most amazing attendance! So far, all year, we have been able to stay at the top of the leader board for attendance. If we stay there all year, we will win a free trip at the end of the school year. Because we had amazing attendance last week, we won hot chocolate and cookies!!
Keep up the good attendance, 2 Beech!
Shhhh! It's The Secret Garden!
What a treat we had on Monday! We came into school and Mr Carbutt told us that we were watching a theatre production. They were amazing! They told the story of 'The Secret Garden'. The message of resilience was noted and the songs were fantastic too!
Let's Play Cricket!
Last Friday, we were able to take part in a 'one-off' cricket session. We thoroughly enjoyed ourselves and learnt some new skills ready for the Spring and Summer terms.
PANTS!
We have been talking out the NSPCC 'Pants' rule this week. We wanted our children to understand that their private areas belong to them and that it is okay to say no! The children were really understanding and enjoyed the song that they learnt to sing. If you would like any further information on this, please visit the website below.
Learn a New Skill Day!
This week, we thought about our curriculum driver, 'Resilience', and decided that our children love learning but most importantly they love a challenge! 'Learn an new Skill Day' is based upon challenging themselves, not giving up, being risk-takers and stepping out of their comfort zone, but also having fun! We learnt lots of new skills including, drawing, cracking the code, dancing, face painting, French, drama and PE skills.
Tier Vocabulary
This week, we have started our new book 'Lost in the Museum'. We looked at vocabulary and added specific words to our tier on the working wall. Tier 1 are words that we use everyday, tier 2 are words that will improve our work and tier 3 are words that we can use in different subjects.
Pancake Day
This has been such a busy week for 2 Beech. As well as World Book and Bike-abilty, we have also had Pancake Day! Here we are enjoying our delicious pancakes!
World Book Day meets Bike-ability!
Today it is WORLD BOOK DAY. We are celebrating in school. We have all come to school in our fabulous costumes and are ready to learn about our school book focus, 'Room on the Broom'. Today we have had a magician in school, read with 5 Sycamore, completed a sequencing activity, created our own bookmark and a truly magnificent broom stick! We were also lucky enough to enjoy an afternoon of Bike-ability!
Learning about Aqiqah
This week in RE, we have been learning about Aqiqah - how to welcome a new baby into a muslim family. We were lucky enough to speak to Mrs Mayat about her experiences. She even write Miss Berry's name in Arabic.
Mad about Methods!
This week, we have been learning about fractions. To show our understanding, we have used sharing, bar models and part whole models.
Multi-Skills
Another week, another multi skills lesson! This week, we re-capped our balance and agility skills from last week but also learnt about co-ordination.
Poetry Mapping!
Today, we started the poetry mapping aspect of our learning. We read the poem, 'What's in the Box?' and looked at the vocabulary used; identifying whether we can improve the words already used. We added these to our working wall. Then, we went into the corridor with a huge roll of paper. We went to either side and drew our story maps on the paper. Once we had drawn them, we checked each others to ensure we had drawn pictures for every aspect of the poem. Then we worked in pairs to create actions.
Multi Skills Morning
This morning, we were invited to join in with Multi Skills. The two main words we were learning about was 'balance' and 'agility'. To begin with, we bracticed balancing on one leg, then we moved on to bouncing a balloon. We had to do it carefully so that we didn't move too far from our spot. Once we could do this, we were then given a bat. We really enjoyed our morning!
Build A Bear Trip
Today, we have been to Build a Bear at the White Rose Centre. Recently, we have been learning about the first teddy bear. We went to build a bear to see how the making of bears has changed over time. We made a class bear and named her Shine. We also stuffed the bear ourselves, added a heart, dressed her and gave her a hug to wish her luck. We also played games at the end in the shop! We had an amazing time choosing our bear and creating her.
Our Class Assembly!
This week, it is Chinese new year! To celebrate this, 2 Beech completed an assembly to inform the rest of school about why it is celebrated, why each year is named after an animal, what happens during the celebrations and why dragons are a symbol of good luck!
This year it is the year of the PIG. We thoroughly enjoyed our assembly and we hope that the rest of the school and the parents who attended did too!
Happy Chinese New Year!
Safer Internet Day!
As part of our SMSC curriculum, we celebrated 'Safer Internet Day'. In the afternoon, we learnt about how to be safe on the internet. We thought of different rules and completed a range of scenarios; deciding on what we would do, whether we would tell an adult or not. We also have some homework to complete on this! We will be making 'Safe Internet' posters. Keep an eye out for these around school when you visit.
Number Day!
On Friday 1st February, we took part in 'Number Day'. We did this to raise money for a fantastic charity, NSPCC. We all brought in a donation and were able to wear something that had a number on it or a shape. We took part in a range of activites, including 'What's my Number?', clock activities, missing numbers, puzzles and so much more! Our favourite game was 'Who wants to be a Millionaire!' We learnt lots about numbers and the NSPCC.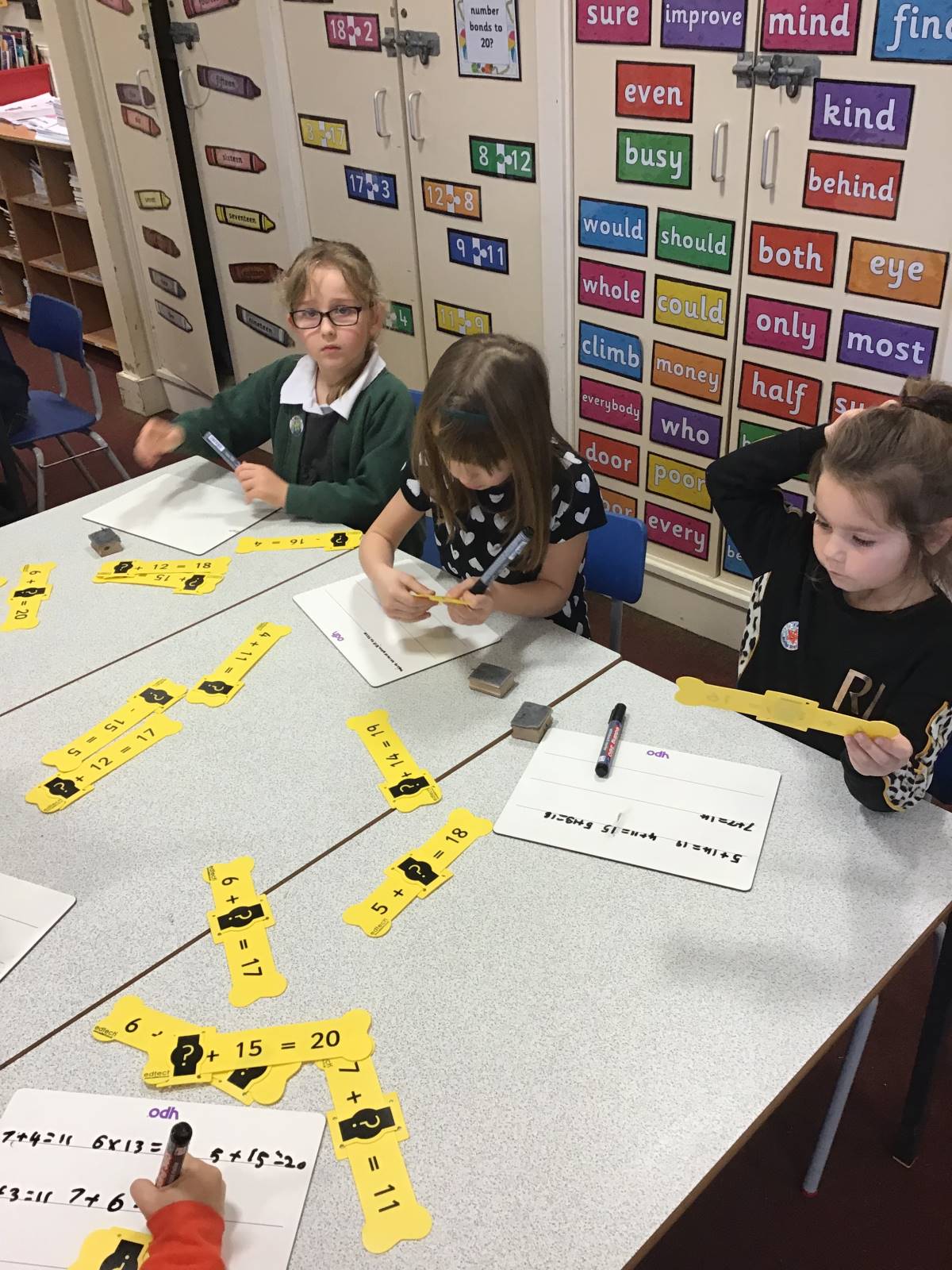 Present and Past Tense
This morning, we have been looking at present and past tense in English. We looked at the sentences in the book we are focusing on, 'This is the Bear and the Bad Little Girl', and changed the sentences to the past. We also looked at if these words were regular past tense verbs (ending in -ed) or irregular past tense verbs. Our starter activity was to find our partner. We had to match present and past tense sentences. Some were very tricky!!
Design Technology
We have been busy making teddy bears! We designed our teddy bears, made them, evaluated them and wrote instructions for how to make them. Look at our amazing designs!
This is the Bear and the Bad Little Girl - Story Map
Today, we have created a story map for our story, 'This is the Bear and the Bad Little Girl' by Sarah Hayes. We drew pictures to help us remember the story. We then thought of actions in groups.
Any free time we have had today, children in 2 Beech have been using the whiteboards to create their own story maps.
Collecting Data
This week, we are looking at data handling. We have spent a couple of days identifying tally charts and pictograms. We have also asked and answered questions to ensure we have a deep and secure understanding of them. Today, we started to collect data on a tally chart to be able to create a bar graph tomorrow. Here we are working as a class to collect data.
I wonder...
To start our new English narrative, 'This is the Bear and the Bad Little Girl', we created a wonder map. We looked intently at the front cover and blurb to decipher what we thought it might be about, what we could see, what we could infer and any questions we had. Here we are working in groups to create our wonder maps!
An Amazing Start to a New Term!
Welcome back! I hope everyone had a lovely Christmas and New Year. It has been lovely listening to the children's experiences over the Christmas holidays.
We have come back ready to work in 2 Beech! We have already started our new units and are really enjoying them. In English, we are looking at the first bear ever made. We are linking our English to our topic work, 'Toys'. The children thought of some amazing questions that they wanted to answer; one being about the first ever teddy bear. We started our English lesson by looking at a range of non-fiction books to identify the features, but also explain why we have these features.
In maths, we completed our multiplication unit by looking at arrays. We found that this was a quicker way to work out multiplication number sentences. We also found out that multiplication number sentences can be done in any order!
All aboard.....!!
After a week of learning about the Polar Express, we were all very excited today when the Polar Express train came to Orchard! We started off the day by receiving a ticket to get on the train. Mrs Scholes stamped our ticket and then we got on the train with our friends. We had hot chocolate, wrote about why we and our friends deserved a place on the train, drew snowy pictures and made train biscuits. It was an amazing morning! In the afternoon, we took our cushions and blankets and watched the film in the hall. We turned the lights off and just had the glow of the Christmas tree lights. We also had a surprise visit from Santa!
Whoops-a-daisy!
After lots of preparation, we preformed our nativity for our parents today! It was amazing!! The children have worked very hard over the past couple of weeks to learn new songs, new actions, staging and lines to ensure they put on the best performance. Well done to everyone involved!
"Pass the sprouts!"
Today we had our Christmas dinner at school. The staff in the kitchen created such a lovely dinner for us all to eat together. We had Yorkshire pudding, turkey, stuffing, mini sausages, potatoes and lots of vegetables! To finish pur meal, we had either buns, biscuits or Christmas pudding. We pulled crackers and spoke about what we would be doing over Christmas with our families. What an amazing lunchtime!
Creating Equal Groups
Today, in Maths, we used groups to create 'groups of'. We had two circles to support our learning and we used cubes to fill the circles. We used the stem sentences; There are ... groups, There are ... in each group, there are ...groups of...
What Would You Like For Christmas?
This week, in English, we have been learning how to write a letter. We have included lots of features, such as address, date, introductory sentences and how to end a letter formally. First of all, we wrote a letter to Ruby's dad from the story 'Rumpelstiltskin'. Yesterday, we wrote letters to Santa! We were so excited to write about what we would like and why we thought we should be on the 'good list'. We had some fantastic reasons, including 'I helped my mum clean the house', 'I always help my dad with the washing up' and 'I have been working hard at school'. We walked to the post office today and posted our letters to Santa. Fingers crossed he writes back to us!!
What does Rudolph eat?
Today, we have been well underway with the Christmas Fair preparations! We have made Christmas calendars and reindeer food. We are also in the final stages of our nativity, ready for parents to see next week. We hope to see lots of parents at the fair and nativity.
The Very First Christmas!
We have now entered into December - the most magical month of the year! To celebrate this, we were invited by Dewsbury Pentecoastal Church to watch their redition of 'The Very First Christmas'. It was absolutely brilliant! The children really enjoyed their time. They were able to create and make Christmas decorations, have juice and a cake and watch the amazing volunteers of the church in a great nativity!
Road Safety Week
We discussed 'Road Safety Week'. We looked at how to be safe when waiting to cross the road, safer ways to cross the road (for example using a pelican crossing) and pretended to cross a busy road in the classroom. We then completed a sequencing sheet showing the process of how to cross a road.
Money, Money, Money!
This week we have been learning about money. So far, we can identify all the coins and notes, make amounts, identify that all the coins are different sizes and shapes and add money together to find the total. Today, we are looking at ordering amounts. First we worked out each amount to be able to order them, smallest to greatest.
Remembrance Art Walk
This morning, we were licky enough to have a look at the remembrance art in the hall. We used the sentence stem 'I like this because...' or 'I think this is about... because...'. The art work was amazing!
Anti Bullying Week
We discussed 'Anti Bullying Week' yesterday and why we do it. We looked at the aspects of bullying but also emphasised that it is a constant, daily thing. If something happens once, this is not bullying, but an unkind thing to do. We decided that, as a class, we wanted to create friendship bands to show that we are united as a class and know the types of words we should be saying to each other and how we can be supportive of our peers.
An Early Treat!
Mr Carbutt treated us this week to an early Christmas present. We had M&M productions in and they were amazing! We watched 'Snow White' and the children really enjoyed it! They even had Mr Wakefield and Mr Carbutt up dancing to 'Baby Shark'.
Children in Need
This week was Children in Need. We celebrated as a school. We came to school in spotty outfits, made Pudsey masks, made spotty hats and had lots of fun learning about why we have children in need. We are all looking forward to watching it on TV this weekend.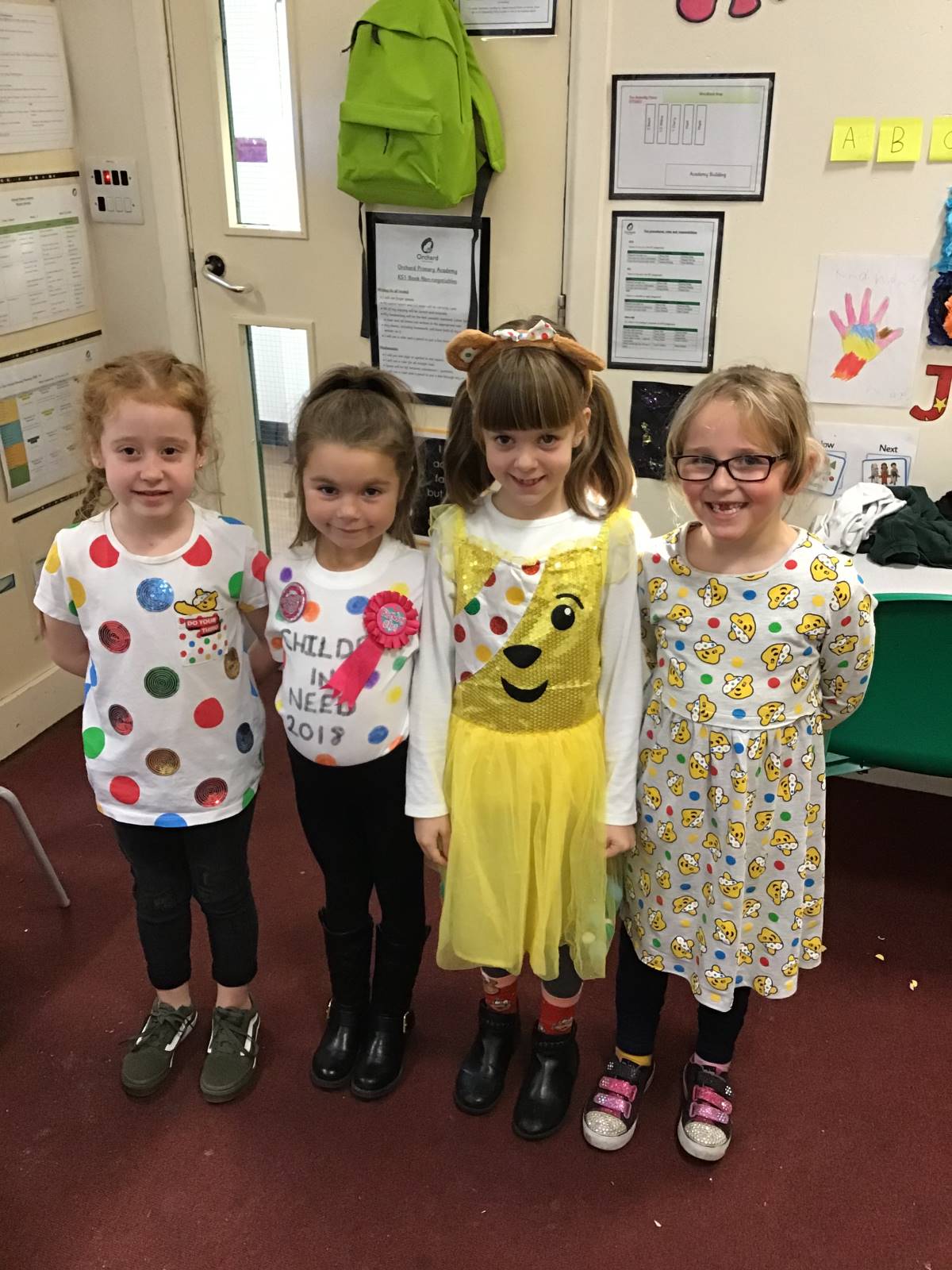 Subtraction on a Number Line
This week, we have been learning how to find the difference when subtraction on a number line. To begin with, we identified the next multiple of 10. We then made 'jumps' to find the difference between the numbers given and the multiples of 10. Afterwards, we counted them all together to find our answer. Here is an example....
Remembrance Gallery
To celebrate all the work our school did on remembrance, we hosted a gallery for parents. Then, the next day, we had the opportunity to look around. We used sentence stems, such as 'I like this piece of art because...' to encourage discussions.
"Is your name... jellybottom?"
This week, we started our new unit in English. We are using the story of 'Rumpelstiltskin' to support our focus of writing character and setting descriptions. We first of all looked carefully at the front cover, making inferences. Then, we created a story map and actions to help us remember events within the story. We also identified key words we either didn't know, so used a dictionary to define the words or words that we wanted to magpie.
We Will Remember Them!
This week, we have been learning about why we wear poppies. As a school, we have been creating art work to feature in our school as a sign of remembrance and of respect. We created individual poppies and then created some art work, using paints, to add to a whole school gallery. If you would like to come and see our gallery, please let us know!
Something frightening is happening at Orchard!
Yesterday it was the hallowe'en disco at Orchard! The children got changed and they looked amazing (but also a little scary!) We had a brilliant time; played games, had a best dressed competition and a pumpkin competition! Well done to the whole of KS1 for the effortt they put into their costumes.
Are we learning about Yoga today, Miss Cardus?
This week, in PE, Miss Cardus has taught 2 Beech about Yoga. They did a range of stretches and used calming music to ensure they were engaged in the lesson.
Subtracting using Base 10
Today, we have moved on to learning about how to subtract using the column method. We started by making sure we had a secure understanding of using concrete resources to support our understanding. After, we completed column subtraction number sentences in our Maths books. Here we are showing Mrs Murphy that we have an amazing understanding of subtraction!
Guided Reading
We are developing our guided reading skills in 2 Beech. We are using the text to help us answer questions. We will go through the answers in the next session with an adult to make sure we understood the question and discuss our answers.
Walking Around The Zoo, What Do I See?
Yesterday, we started our poetry unit. The poem will be looking at and re-writing is 'Walking Around The Zoo'. Yesterday, we looked at features of the poem. We identified repetitive language, punctuation and even decided how we could improve it! Today, we created a poetry map and created actions to help us remember it. Here we are in action...
Harvest!
This week, we have celebrated 'Harvest'. We brought in lots of tins and packets of food. We had a whole school assembly with Mr Carbutt to explain what it is and why we celebrate it. Here we are in our whole school assembly. Look at all the food we brought in!
Amazing Art
This half term, we have been looking at 'Picasso'. We created two pieces of art work and merged them together to make one piece. Here we are with our creations!
Marvellous Maths!
Today, in maths, we have been looking at different ways to show our thinking. As teachers, we have been doing lots of training on bar modelling. We are also incorporating the concrete, pictoral, abstract (CPA) approach into our teaching. 2 Beech are amazing at showing this in their work. Have a look at what we have achieved so far...
KS1 Sporting Event
This week, selected children were able to visit another school to compete in a sporting event. The children were able to complete races and activities throughout the afternoon. We had lots of wonderful comments about how polite, well behaved and well-mannered our children were. Well done!
Check out our Maths Work!
Today, in Maths, we have been looking at the relationships between number facts. On the carpet, we practiced this using our new whiteboards. Our new whiteboards help us to work on our presentation as well as learn amazing new things!
First Aid Training!
Today, we are receiving some first aid training from St. John's Ambulance. We are currently learning what to do when someone is unconscious. We have found out that we need to shout for help first, ask if the person is okay and then check if someone is breathing. We have also learnt that we need to check for danger. We are learning some fantastic skills!
For more information about St John's ambulance, please follow the link below:
World Space Week
As well as celebrating poetry, we have also been celebrating 'World Space Week'. Today, we learnt about Neil Armstrong and Tim Peake. We looked at recent news articles about new planets and moons which have been identified beyond our solar system. We also created space pictures. We are currently just finishing them, so keep looking at our page for the finished product. They are looking amazing!!
National World Poetry Day
Today is National World Poetry Day. As a school, we decided to write our own poems based on this years theme of 'changes'. 2 Beech decided that we would link it to our continuous science work - weather and seasons. As we have just changed from Summer to Autumn, we wrote an Autumn Poem. In a whole-school assembly, we all presented our poems. They were fantastic!
Our Maths Work
This half term we have been working really hard to improve our presentation and to show our thinking in may different ways. We have been using 'sticks and dots' to represent base 10, bar models, part whole models and beginning to explain ourselves when completing reasoning challenges. Here are a couple of examples: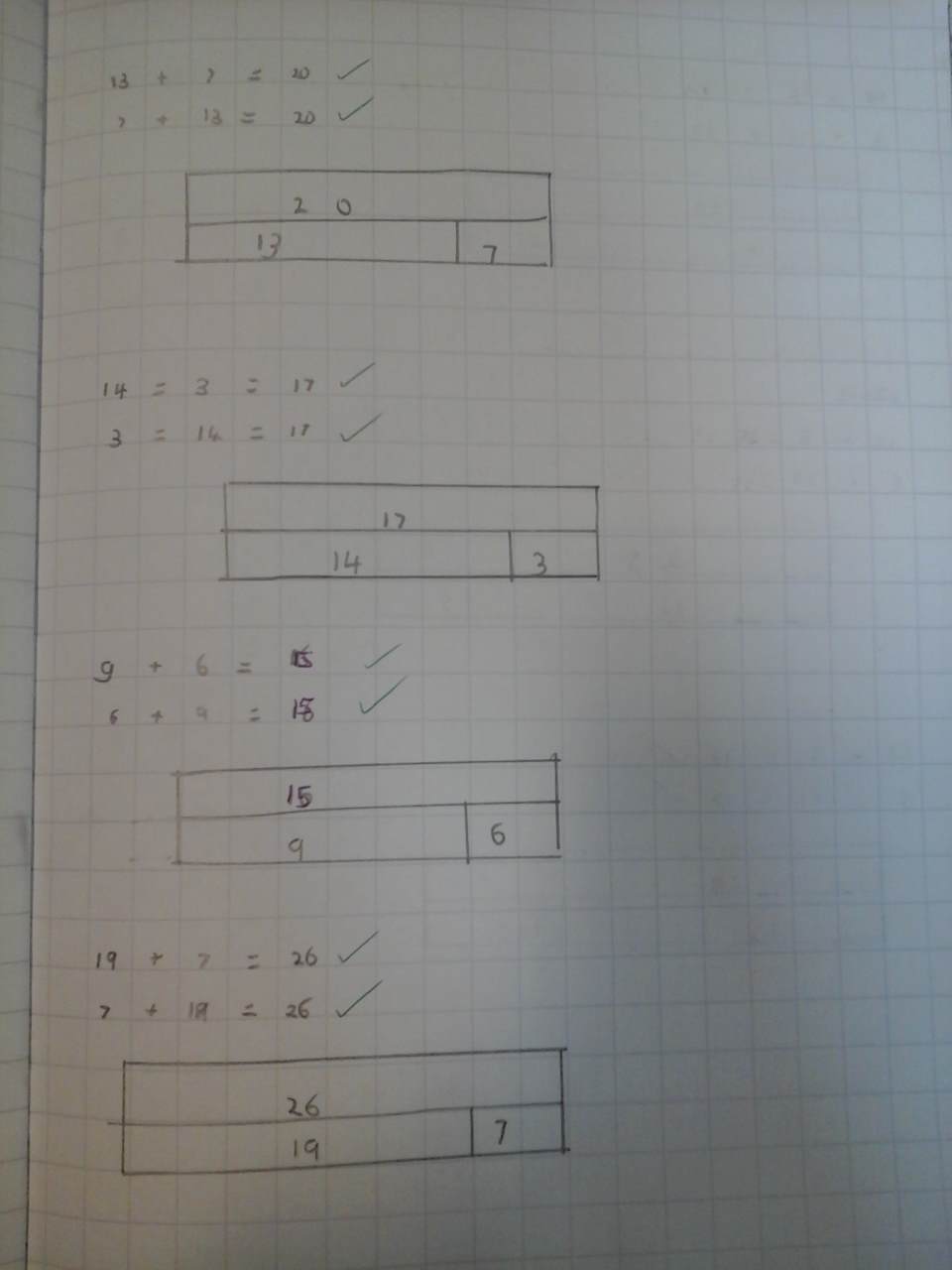 World Languages Day - 26th September 2018
HAPPY WORLD LANGUAGES DAY, EVERYONE!
Today, it was 'World Languages Day' and here at Orchard, we were so excited to celebrate it! Each class had a different country to celebrate. 2 Beech were looking at Hungary! Throughout the day, we looked at the Hungarian flag, what they eat, what their schooling is like, what/who is famous there and so much more! Miss Cardus also taught us some dance moves! Have a look at what we did...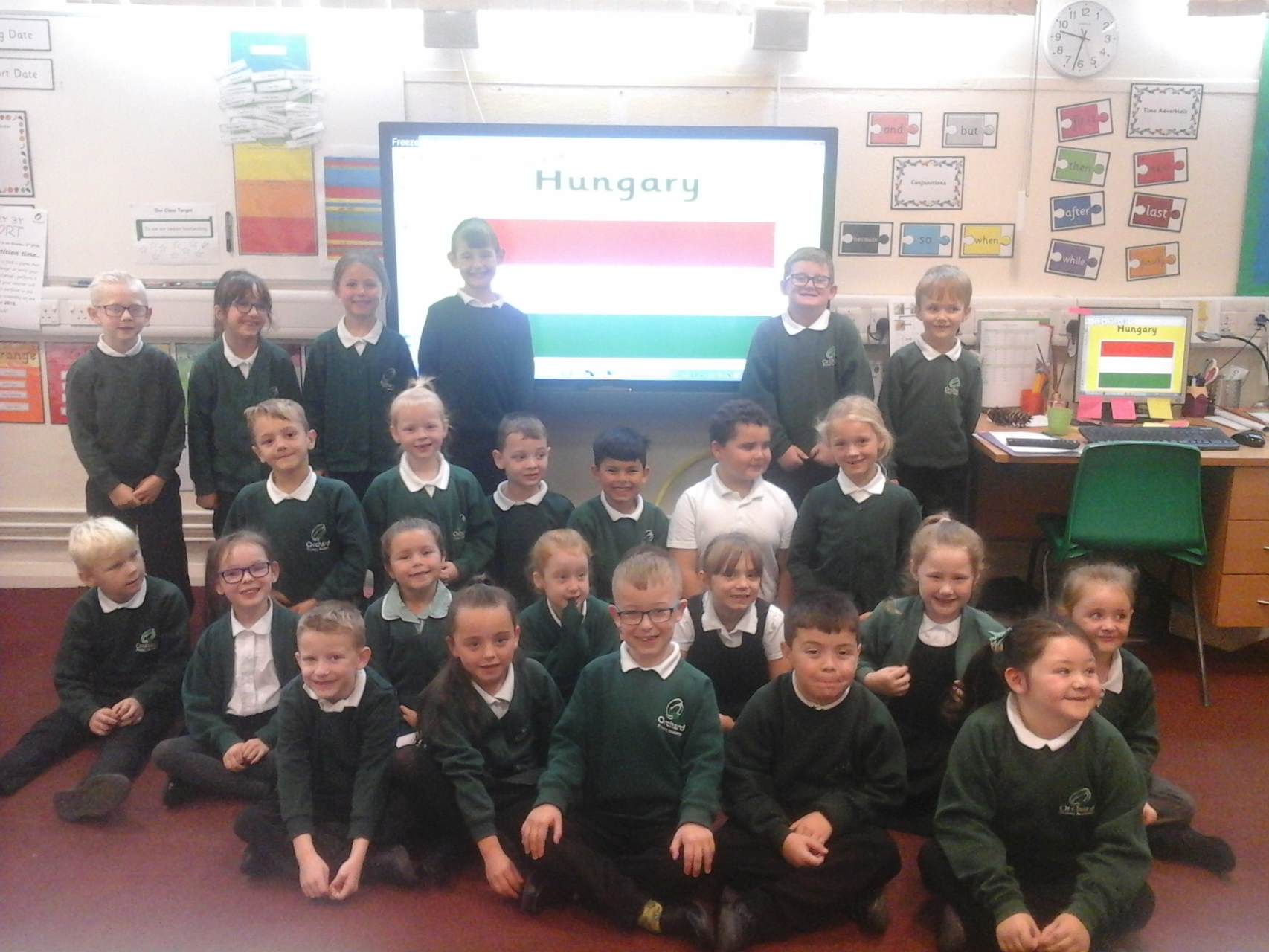 The Hungarian flag is red, white and green.
We did some art work based on a Hungarian artist and illustrator.
We learnt a folk dance!
We even learnt some Hungarian words. Sat 'hello' to 2 Beech!
Autumn Is Here!
This week was the start of Autumn. To celebrate the new season, we went outside to see how the world was changing. We saw that the leaves were changing colour and falling to the ground. We could feel the weather becoming a lot cooler. We could see conkers growing in the trees. We are looking forward to seeing what else this season brings!
Counting in 2's!
In Maths, we have been learning to count in 2's, 5's and 10's. We have been looking at sequences and finishing them by identifying what we are counting in and then writing the next number. We have also been challenging ourselves! Sometimes, the sequences may not start at 0 or might go backwards. We were resilient though and completed the challenge! Here we are using cubes to help us count in 2's.
Why is he famous?
On Tuesday, we were shown a picture of a man. The man had a golden crown with blue and red jewels. He had a black jacket with golden thread. He had a silver, sharp sword to fight enemies with. But who was he? We wrote a list of questions to ask such as;
- Who are you?
- Why are you wearing a crown?
- Why are you wearing a stylish jacket?
- Why do you have a sharp sword?
- Are you rich?
- Are you a king?
- Do you live in a castle?
Today, we found out who he was. His name was William the Conqueror. We found out lots of interesting facts about him and then wrote our own fact file on him. Did you know he was born in France? Did you know he was crowned King on Christmas Day?
The Little Princess Visits Orchard!
We were very excited today!
We were very excited because we had a visit from M&M Productions. They are a theatre company and they put on a fantastic and engaging story about 'The Little Princess'. It had a brilliant PSCHE theme about bullying and how to be kind to others. We thoroughly enjoyed it and we can't wait for their next visit!
The Little Princess was amazing! I liked the princess. She was bullied at the start and then the bully was told off so everyone was happy.

I liked The Little Princess because it was fun. The singing was good and I learnt about bullying.
Do you eat enough fruit and vegetables?
On Thursday 13th September, we had a visit from the 'Emma Bright and Super Food Fight' company to talk to us about eating healthily. We met all the characters they had created, listened to their book about the adventures of the healthy characters and then created our own character based on healthy snacks.
To find out more information, please visit their website;
Emma Bright and the Super Food Fight
Apples have special sugars. They give me energy so I can run really fast.

Grace
Roald Dahl Day - 13th September 2018
Today, we celebrated the life of Roald Dahl. We read facts about his life and then looked at a range of his books. We really enjoyed 'George's Marvellous Medicine' so decided to make our own medicines for us to try. We used a range of tropical and exotic fruits to make our medicines.
Cloud 9!
This week, Mr Carbutt introduced 'Cloud 9 Cards' for children to take home to tell their parents that they have been on Cloud 9. Look who's been on cloud 9 this week.
FLASH! BANG! Nat Fantastic is in the room!
This week, we started reading our focus book for English, 'Nat Fantastic is in the room!'. On Monday, we predicted what we thought the book was about and thought about questions that we would ask Nat. We then created a story map to help us remember the first adventure in the book. We identified key words we wanted to magpie.
Maths - 6.9.2018
This week, we received lots of new maths resources from our new maths leader. We were so excited about this that we decided to get them all out straight away and use them in our lesson. We were looking at making tens and ones. Look at what we did;
A Visit to our School Library
This afternoon, we had a visit to our school library. There were so many books to choose from, bean bags to sit on and we all had a lot of fun! It was great to be able to choose our own books to read.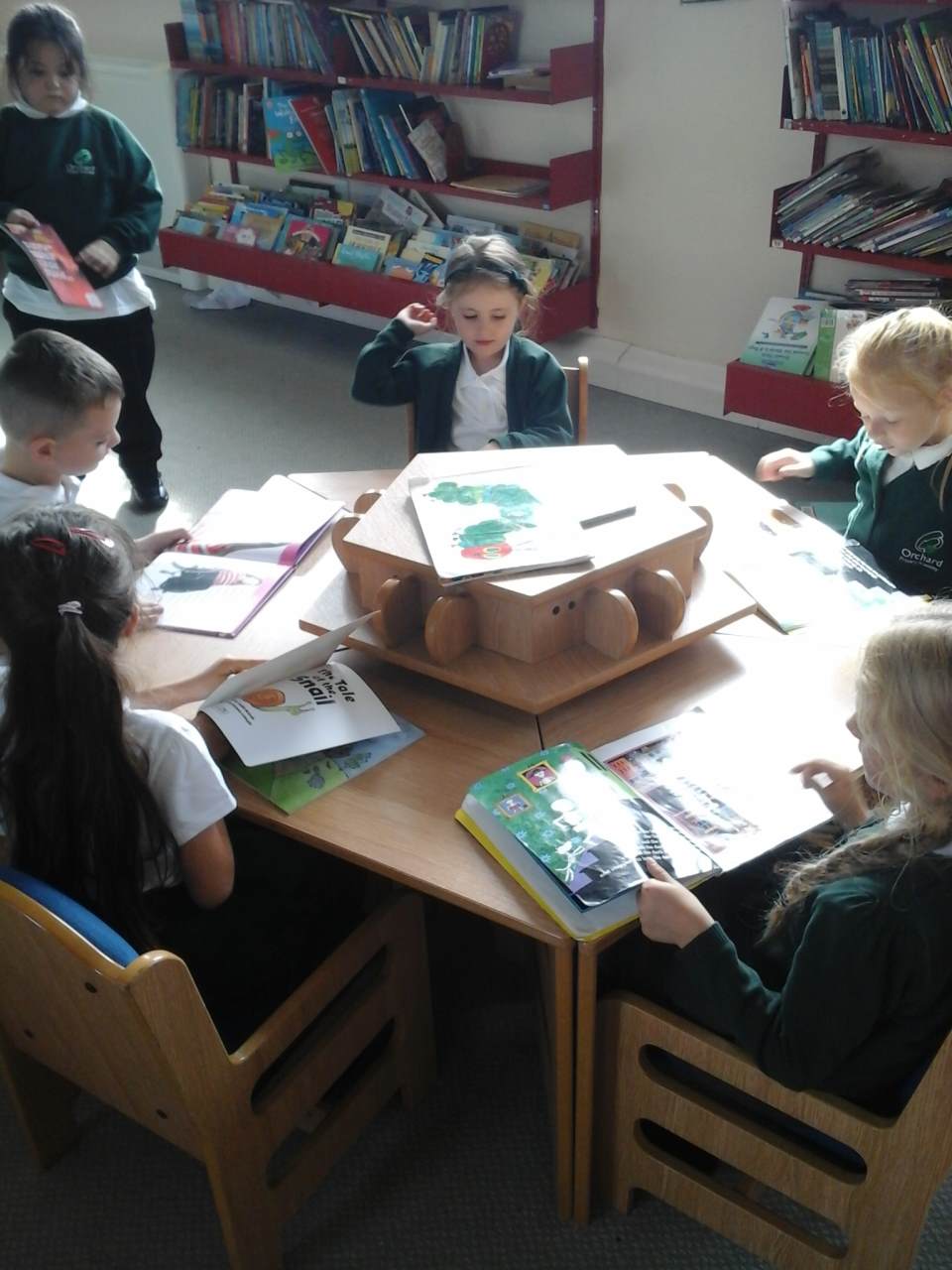 Our First Day Back at School!
We had a fantastic day at school today. We came in happy and ready to learn! We have a new classroom. Mrs Murphy painted it over the holidays and created our displays. We have challenge areas, a reading area and lots of visuals to help us learn.
We completed our work well. We went to our tables and started our work straight away. In English, we began to learn about Norman Vaughan, the man who said 'Dream big and dare to fail!' which, is our new school motto. In Maths, we were ordering numbers and counting accurately. Here we are:
After lunch, we read our books and completed a handwriting task. Look how amazing our handwriting is! Some of us have been practicing over the summer holidays.