🎉 4 Ash - Welcome to our class! 🎉
In 4 Ash, we work hard and try our best every single day. We instil our school mottointo every aspect of school life, showing and encouraging resilience both inside and outside of the classroom. On our class page, you can find lots of important documents, as well as up-to-date information and useful links that tie in with the work we are doing in class that you can access at home!
📌 For Your Diary! 📌
Class 4 Ash will be going swimming this year - we are all looking forward to this! Please could you ensure all children have their swimming kit with them on a Monday every week from 17th September. ALL pupils require a swim cap for swimming lessons please.
Homework goes out every Friday in 4 Ash, and is due in the following Friday. Children have 1 week to complete their homework. It will usually consist of a maths task and a literacy-related task, including research about a topic, moral dilemmas etc. Please ensure your child has completed their homework by Friday morning as this is when we will dedicate time as a class to go through homework and mark it. Thank you!
👍🏼 Our Class Blog 👍🏼
A Visit from our Local MP!
Our local MP Paula Sherriff came into school on the 24th May to deliver a Q&A session with Lower Key Stage Two! She gave us a brief introduction into her job role and told us she cares for and represents around 80,000 in our local area! We were blown away with how down to earth Paula was, and very inspired by the fact that she just wants to help people - did you know she worked in hospitals and as a police officer before becoming an MP? We had a lovely discussion about getting more diversity into politics and how it would be amazing for there to be a 50/50 split of men and women at Westminster! The children had some wonderful, well-thought out questions for Paula. One of our favourite moments was when she was asked if she had always wanted to be an MP, to which Paula replied -
"No I didn't, because I didn't know people like me could be MPs! I wasn't privately educated, didn't go to university, wasn't from a rich family - I didn't think I could do it for those reasons!"
A perfect example of how you can achieve absolutely anything you want if you dream big, dare to fail and work hard enough! Thanks again Paula, we look forward to welcoming you back to Orchard again soon!
National Coal Mining Museum Trip!
As part of our "Local Study" topic unit this term, we have been working on coal mining and learning about how important the industry was in our very own county. We are super lucky because just down the road from us lies the National Coal Mining Museum for England! So, on Thursday 23rd May, we enjoyed a fantastic trip darn t'pit. We experienced what life would really be like down in the cold, cramped and smelly mines. To fully immerse ourselves in the experience, we became Mini Miners! We crawled across the damp floors, filled and emptied coal buckets and even met the resident pit cat, who came out at night time to chase away the rats and mice! We were introduced to the resident pit ponies as well as the NCMM's Clydesdale horse Finn. As if all of that wasn't enough, we then got to experience the pithead baths, and we even got the chance to dress up in miners clothing from the 1930s all the way up to the modern day! The miners who showed us around were absolutely amazing and full of some fantastic knowledge - although we were able to share some of our knowledge from our learning about Huskar Pit! 4 Ash did everyone very proud!
Outdoor Learning Day 2019
On Wednesday 22nd May, we enjoyed #OutdoorLearningDay, where we took our classroom outside for one day only. In the morning, to kick-start our new money unit in maths, we transformed the quiet area of the playground into Ash-Da - our very own supermarket! The children were split up into cashiers and customers. The customers went shopping but they had to be very careful - each had a different amount of money! They had to use the price lists to add their totals up as they went and ensure they had enough money for their shopping. Our cashiers then put the shopping through the till, calculated the total and gave the customers their change, as well as writing them out a receipt.
After break time, we had a walk around the school grounds and really put our senses to the test, in preparation for some descriptive setting writing. We thought about what we could see, smell, touch, taste and hear, and how we could put these ideas into a setting description. Then, we found a spot to write and surrounded ourselves with nature!
#TeddyBearsPicnic2019
The sun was shining beautifully around Orchard on the 16th May 2019 - the perfect day for a teddy bears picnic! 4 Ash enjoyed lunch together on the grass in the sunshine. It was lovely to have lunch together as a class - even better that the sun was shining down on us! We had some lovely conversations and even a bottle flip challenge - even Miss Darby managed to do it!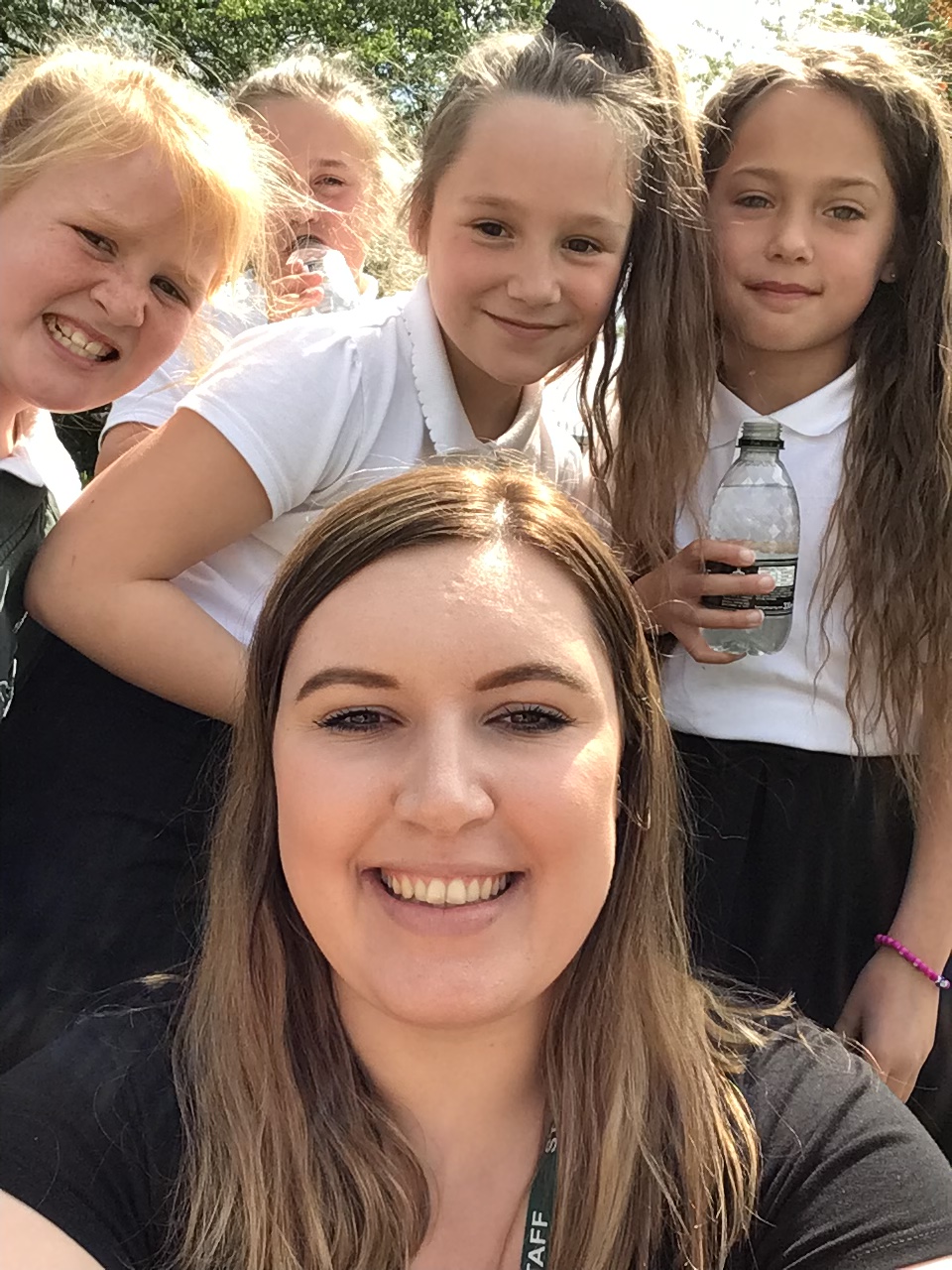 Final Week of the Spring Term!
We have had an AMAZING end to our Spring term in 4 Ash! From Easter egg hunts to Viking village raids... here are a few highlights!
Tuesday 9th April
Orchard held a one-off after-school club where the children could come and decorate some eggs in preparation for our competition! It was wonderful to see some members of 4 Ash in attendance with their parents, really getting stuck in to their art work!
Wednesday 10th April
Our egg decoration entries started arriving in 4 Ash from home! The children put so much effort into these - there was some really creative entries! Max Bowness' and his amazing "Humpty Dumpty" entry won in celebration assembly, but all entries would have been worthy winners! Well done guys!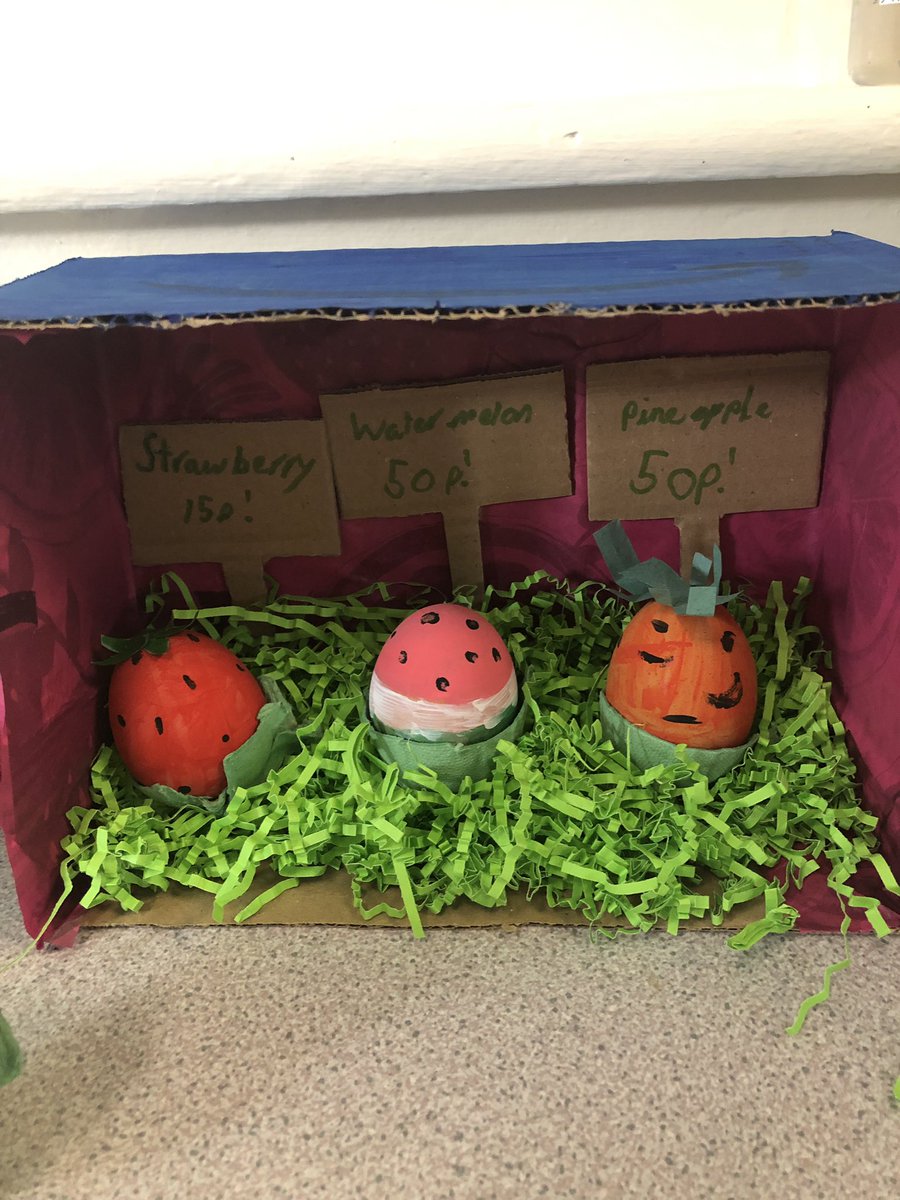 Friday 12th April
We had an amazing last day of term! Throughout Spring, our topic has been 'Vicious Vikings'. We have worked tirelessly to learn lots of historical facts, geographical locations and even created our own helmets, shields and weapons during DT! The children were very creative with their work and we decided the best way to really understand the life of a Viking would be to transform ourselves into them... so that's exactly what we did! We were split into two opposing Viking villages (Odin and Thor) and when we weren't busy raiding, we had to upkeep our farms, cook our food, clean our longhouses etc. We never knew when an attack was imminent so we had to make sure we were cautious at all times! In the end, the victorious Vikings were those in Thor village, must to Odin's dismay. We had a wonderful morning followed by an afternoon treat - a DVD afternoon with toffee popcorn!
A huge thank you to everyone in 4 Ash for all of their hard work this term! I look forward to seeing you in Summer. Have a wonderful, well-earned break. See you in two weeks!
MandM Theatrical Productions
On Monday 25th March we were again treated to an AMAZING show from the wonderful MandM Productions! We were fully enthralled in "The Secret Garden" - a British classic! Afterwards, we discussed the traits that the characters demonstrated throughout... resilience, friendship, positivity, to name a few!
It was the perfect way to start our week and we all had a fantastic time!
Learn a New Skill Day!
We are resilient, determined and patient learners in 4 Ash - and this was really put to the test on Wednesday 20th March, when it was "Learn a New Skill Day" at Orchard! We had a very busy day and managed to squeeze lots of fun in, but it was also quite difficult at times, especially when it came to learning something brand new in the space of 45 minutes. In Lower Key Stage Two, we had a carousel and every class spent time with one of the teachers from 3 Holly, 3/4 Pine and 4 Ash. First, the pupils enjoyed some time outside in the sun, using co-ordinates to map read. After that, we were very lucky and were taught some amazing circus skills from the Rapide Brothers! Miss Hirst in 3/4 Pine then taught us some BSL - ask your child if they can sign their own name to you, or even better, can they sign yours?! Mrs Beckerson taught them how to play the recorder, and we ended the day with a LKS2 Showcase where we all got together and showed off the amazing new skills we had spent the day mastering. Here are just a few pictures from the fantastic day we had!
Science Day!
On Friday 15th March, we went SCIENCE MAD at Orchard! In 4 Ash, we did some really fun experiments - we started with creating endothermic reactions (and learning a new tier 3 word in the process!). We started off with a clear hand gel base mixed with warm water to create bubbles. We then added a dash of food colouring, before sprinkling some baking soda on the mix. Finally, to cause the endothermic reaction, we added some citric acid (lemon juice). The result was a colourful, foamy eruption! We added more lemon juice periodically throughout the day, and the eruptions were just as fascinating to watch even in the afternoon.
We continued with our theme of using lemon juice for scientific purposes, and in the afternoon we all became spies! We wrote secret messages in lemon juice using cotton buds, and waited for them to dry completely. We were amazed to find that, even though the lemon juice was dry and invisible to the naked eye, when we held it up to a light we could see the secret messages we had written! We discovered that some worked slightly better than others, and came to the conclusion that we needed quite a lot of lemon juice on our cotton bud for the experiment to be truly effective.
We also had a scientific themed circle time, where we had a chance to discuss/ask questions about all things science related, and we did some research on the infamous naturalist Charles Darwin. We created fact files about Darwin, his life and his work.
Pupil Voice:
The children were asked to write down their favourite part of Science Day. We then stuck them into our SMSC book! Here are just a few highlights, from the pupils' viewpoint:
"My favourite part of Science Day was when we did the explosions because we found different colours, and I also enjoyed circle time." - Zuzia
"The best thing about Friday was the lemony suds eruptions!" - Cara
"My favourite part of the day was when we put the citric acid in to the warm water to make a reaction." - Kason
"My fave part of Science Day was the circle time!" - Max W.
World Book Day 2019!
On Thursday 7th March, Orchard enjoyed World Book Day! Our theme this year was Magic and Wonder, and in the morning, we were all treated to a fantastic magician show! Our very own Ruby Chadwick and Max Wightman were selected to be volunteers for Magic Tom - we may just have some magician apprentices on our hands! We then went back to class and wrote sequels to Julie Donaldson's fantastic 'Room on the Broom'. We designed our own brooms and decided who we would take on an overhead adventure with us. In the afternoon, we went to 3 Holly to #ShareAStory, and we also made our very own magical potions. We aren't sure if any of them worked yet - hopefully we didn't make any children turn into frogs! We had a wonderful day celebrating books and the wonder of reading, and ended our day with a lovely discussion about the different places reading can take us, without us having to move a muscle! Ps - you all looked AMAZING 4 Ash!!

Look Out - The Vikings Are Here!
Our new topic for this term is The Vikings. To launch this exciting new topic, we were very lucky and had a visit from a real Viking called Olaf! He came all the way from Scandinavia to show us lots of Viking artefacts and tell us about his way of life. He also prepared us for a raid - we split into two teams, the Anglo-Saxons and the Vikings. The children were very inquisitive and had lots of fantastic questions for Olaf. A great day was had by all, and it was the perfect way to launch our new topic!



NSPCC Number Day!
On Friday 1st of February, Orchard Academy celebrated Number Day. It was a day dedicated to maths with the aim of raising money for NSPCC. In 4 Ash, we played maths bingo, tried our very best to solve some really tricky problems, and we made posters with details on where to go if you or someone you know is being abused or bullied. We also had a non-uniform day with a twist - we had to wear something maths related! Stevie wore a t-shirt with lots of number sentences on it, whilst the rest of us wore items of clothing with patterns, shapes or numbers on them! We had a fantastic day!

Christmas Festivities!
Our Christmas festivities are well under way in 4 Ash and we are having an amazing time! On the 3rd December we had a Christmas jumper day in school, coinciding with our annual Christmas Tree Decoration Day. We sang lots of Christmas carols, made our 2019 calendars and of course spent part of the day getting crafty and making our decorations to go on the fabulous Orchard Tree in the hall.

Much to Miss Darby's dismay, we've also had a special visitor in 4 Ash. Edwin the Elf has made his appearance in our class and even though he promised no mischief, he has been making himself quiet at home in our classroom!

16/11/2018 - IWM North Visit
On Friday the 16th of November 2018, the whole Lower Key Stage Two Phase went to the Imperial War Museum in Manchester. It was a wonderful trip for many reasons. The children behaved impeccably throughout our visit and did their teachers, their school, their parents and themselves incredibly proud. It provided the children with a real hands-on approach to learning about the wars, particularly WW1 given it was the centenary since Armistice Day in November 2018. It was incredibly thought-provoking and forced the children to ask some very deep and meaningful questions. We compared our lives to the lives of young teenage soldiers in WW1, who lied about their ages because they were so desperate to fight for their home country. We compared our lives to those of evacuees during WW2, who had to leave behind their homes and their families to stay safe during the Blitzkrieg campaign. We also discussed the Holocaust, something in which all of the children were really interested in! We also took a trip outside to have a look at the iconic poppy waterfall in remembrance of all soldiers fallen during conflict, past and present. A great day was had by all - we already can't wait for our next trip!



Class Rewards!
Today (08/11/2018) we received our first class reward of the half-term - what a way to kick off Autumn 2! We have worked so hard throughout this first week back that we managed to fill our 'Star Jar' by Thursday lunch time! After art this afternoon, the whole class enjoyed some dilute juice and Oreo's - and we even had a little dance to Baby Shark too (sorry if this song is now in your heads too, parents!!). Keep up the fantastic work 4 Ash!

Remembrance Day 2018
We have been doing lots of superb work in the run up to Armistice Day. We have each created our own poppy, using a variety of materials; as a class, we created our own cenotaph and decorated the bottom with poppies; and we have also been working hard on some beautiful and thought-provoking pieces of art which will be displayed in the school's gallery! As a special treat, Reverends Simon and Neil from Dewsbury Minster came into school and spoke with us about the impact of war and why it is hugely important for us to continue to remember and honour the lives of the men and women who paid the ultimate sacrifice for the freedom we enjoy today. We then presented Simon and Neil with our class cenotaph, which will be on display at Dewsbury Minster itself throughout the whole remembrance period. If you have chance, we would urge you to go down and see the art work from 4 Ash and the rest of the classes across school - it is truly beautiful!

The Day the Circus Came to Orchard!
On the last day of half-term (26/10/2018) the circus came to Orchard! In English, we have been focusing on a beautiful book called "Leon and the Place Between". The story follows Leon, a young boy who goes to the circus and is sent to the Place Between by the amazing magician, Abdul Kazam. We wrote persuasive letters to Mr Kazam himself, to ask him to come into school and perform one of his tremendous magic shows! Unfortunately, he is a man very much in demand and he just could not squeeze a visit to Orchard in. He did, however, very kindly send Miss Darby, Mrs Beckerson and Mrs Carter-Green some wonderful magic tricks to learn and teach the children - and so we did just that! We learned some wonderful, truly magical tricks such as the unbreakable egg trick, as well as making our own magician hats out of ice cream cones and learning some other circus themed skills, such as jumping through flaming hoops. The children had a wonderful morning, finished off with some popcorn and dilute. Thanks again Abdul Kazam!

🎨 Art - Henry Moore 🎨
This half-term we have been studying the life and work of Henry Moore. Henry Moore was born in Castleford, and is famous for his abstract sculptures. We have been using Moore's sculptures as inspiration during our art lessons, and today (17.10.2018) we created our very own sculptures out of clay - the results are truly fantastic, I'm sure you'll agree! Just look at the care Faith has put in to her sculpture to make sure it resembles her sketch as closely as possible!

🏔 Geography - Mighty Mountains 🏔
This term our topic is Mighty Mountains. We have been learning about lots of amazing mountains from around the world - from Mount Kilimanjaro to Scaffell Pike! Today (11.10.2018) we produced some lovely work focusing on different ways that we could represent higher ground on maps. We looked at the shading in of maps to show this. However, we also discussed contour lines and how these can represent height, too. We used potato's as our mountains and created our own contour map!

🌿 Forest Schools 🌿
We are very lucky in 4 Ash because every Thursday this half-term we have been enjoying some fantastic outdoor learning opportunities as part of the Forest Schools programme. The children absolutely love it and it is certainly one of the highlights of their school week!

✨ Black History Month ✨
October is Black History Month. In 4 Ash, we have been celebrating lots of significant and inspirational historical figures, from Rosa Parks to Oprah Winfrey, and Martin Luther King Jr to Barack Obama. We have been discussing how this history of coloured people ties in with the culture of today, in regards to racism, tolerance and respect. The children have particularly enjoyed learning about Martin Luther King Jr's infamous "I have a dream" speech. We used this as a basis for creating our own speeches detailing our dreams for a better future - one where we live in harmony with those who may not be the same as us for whatever reason, be it skin colour, hair colour, gender, religion or even hobbies. A world where we celebrate, and not ridicule, the things that make us unique as people!

Here is the fantastic Cara reenacting the famous speech! The rest of the class acted as a small percentage of the 250,000 strong crowd in attendance that day. The passion was clear to see throughout! Check our Twitter page to see the class in action!
📚 National Poetry Day 📚

On 4th October, we celebrated National Poetry Day. The theme this year was 'change'. In 4 Ash, we tied this in to our work on Black History Month (see above). We thought about what sort of world we would like to see in the years to come - we all agreed we would love to see a more tolerant, racist-free world. We therefore wrote our poems around this theme: some of us chose to do acrostic poems whilst some of us chose to just let our thoughts lead us and created beautiful free verse poems. Either way, the result was some wonderful, thought-provoking Poetry.
🇱🇰 World Languages Day 2018 🇱🇰
On Wednesday 26th September, we travelled all the way to Sri Lanka and back - in just one day! We learned all about the devastating Boxing Day tsunami that struck Sri Lanka in 2004, and we produced some fantastic work relating to this. Some of us became newspaper reporters for the morning and wrote amazing articles for the top-selling newspapers in the world, whilst some of us stepped into the shoes of a Sri Lankan child who's world was turned upside down by the tragic events and wrote our own diary entries. We then lightened the mood and sampled some of Sri Lanka's delicious cuisine - we enjoyed chilli and lime rice and lemon and coriander rice, spicy crackers with mango chutney, coconut and chocolate chip pancakes AND Sri Lankan fruit cake! We also tried some lime flavoured water to wash it all down. Then we went on to learn all about Sri Lankan dancing, and how important it is to their culture. We looked at the costumes Sri Lankan's wear when performing their beautiful Kandyan dances, and created our very own headwear. We were then very very brave - we got up in front of the whole school during assembly and performed our very own Kandyan dance, sporting our beautifully creative headwear. Great fun was had by all - we are already looking forward to our next Theme Day!
Why not ask your child what their favourite part of World Languages Day was? Better still, ask them to perform the Kandyan dance - they were all naturals!ng
😁 WEEK 2 😁
We've had a busy old week in 4 Ash! On Thursday 13.09.18, we celebrated Roald Dahl Day, we enjoyed a Healthy Eating drama work shop from the fantastic 'Emma Bright and the Super Food Fight', AND we started our Forest Schools scheme - we are very lucky because we are the first class in the whole school to take part! On top of all of this, we've been creating some wonderful English work on our book 'The Mousehole Cat' by Antonia Barber; we've worked super hard in maths on our Place Value topic (and we've been using our amazing new maths equipment!); we have started our art work focusing on Henry Moore; AND we have been looking at rocks and soils in Science. Make sure you scroll down our webpage so you can have a small peak at just some of the things we have been busy with this week.

📒 Roald Dahl Day 📒
We had lots of fun in class celebrating the wonderful life and work of Roald Dahl!Term 1