{DIARY_CALENDA
5/6 Chestnut - Welcome!
Welcome to 5/6 Chestnut's page! Here, you'll find lots of information about our class, links to useful documents and websites and photographs and videos of the children.
Mr Wakefield is the teacher of 5/6 Chestnut. He likes football, maths and exploring new places. Please feel free to talk to him and ask any questions or concerns you may have.
"Shoot for the moon. Even if you miss, you'll land among the stars."
- Norman Vincent Peale
Homework
In 5/6 Chestnut, homework is due in in Thursdays and it is set on Fridays. Children will get the following as their homework:
Reading book - children are expected to read 3 x 20minutes per week to an adult at home. Please listen, respond and ask questions about the texts they are reading. Also, don't forget to sign their Reading Records.
Maths - As a class, we need to improve our mental calculation skills. Therefore, this half-term, we will be concentrating on our multiplication facts to 12 x 12. Please help to do all you can to ensure your child learns their tables.
Topic Map - These are stuck in the front of your child's homework book. These are the longer tasks, often research and practically based.
PSHE/Reasoning Question - Children will be asked to research an on-going noticeable event, something in the news, something related to topic - it could be anything!
Useful Links
Blog
Friday 11th January 2019 - Greek Day
Wow! What a day!?! The children have had a brilliant experience day today, thanks to our visitors from Ancient Greece. Penelope (from Athens) and Andros (from Sparta) taught us lots about how Ancient Greeks used to live and tried to persuade us to join their own city-states.
- Andros and Penelope introducing themselves to Upper Key Stage Two.
- Dressing up as the Minotaur and Medusa to perform Greek Myths in the Theatre of Dionysus.
- Buying slaves at a market in Athens.
- All hail our wise old leader!
- Spartans combing each others hair, making sure they are looking ready to battle!
The Ancient Greek game of Pottae - a game of strategy and skill.
Performing our final story of the day.
Monday 7th January 2019
Happy New Year! Welcome back to another fantastic New Year at Orchard Primary Academy.
Do you have any New Years Resolutions?
Thursday 8th November 2018
Today we have been using charcoals to create pieces of art to commemorate the end of the First World War. Our artwork will be displayed in the hall on Monday 12th November and the installation will stay there all week. Here's a sneaky peak at what 5/6 Chestnut have produced so far.
Wednesday 7th November 2018
The children were treated to an assembly from the Reverend from Dewsbury Minster today. They children created their own poppy wreaths and laid them in a ceremony in the school hall.
Thursday 25th October 2018
As an end-of-term treat, the children of 5/6 Chestnut spent the morning carving pumpkins.
Friday 19th October 2018
The rains have cleared this Friday as 5/6 Chestnut managed to enjoy the best part of an hour in the low and powerful Autumn sunshine. Back outside, we were able to continue our progress with Invasion Games and we were looking at accurately passing and catching with the rugby balls.
Here, the children were playing a passing game. When the whistle blew, the person with the ball had to run around the circle before those left in the circle could pass the ball around successfully.
Similar to above, however, as the children of 5/6 Chestnut are super-fast at running, they had to run 2 laps of the circle. This video is in slow-motion.
Another drill where the children had to move along in a line, passing the ball from one side to the other.
Wednesday 17th October 2018 - Orchard Against Hate
ORCHARD AGAINST HATE DAY!
Today we are thinking about equality for all and living in unity with the rest of the world.
We looked at a Black Eyed Peas song 'Where is the love?' in our guided reading session that sums this up wonderfully. We watched the music video, analysed the lyrics and discussed it as a class.
https://www.youtube.com/watch?v=WpYeekQkAdc&safe=active
Following on from this, a group of boys worked through their break and lunch times to create a banner to show that Orchard stands against hate.
Well done and thank you to Marley, Dillon and Harvey!
Friday 12th October 2018
As today is the beginning of a very wet weekend, 5/6 Chestnut are taking part in indoor PE today and are showing off their best dance skills.
Dance is brilliant for Physical Education! It's non-competitive, everyone can take-part no matter what their skill level AND it makes our bodies release endorphins and dopamine - our feel good hormones.
Wednesday 10th October 2018 - Mental Health Awareness Day
For Mental Health Awareness Day, 5/6 Chestnut shared the ways they like to relax after a hard day at school and ideas about what to do if there was something playing on their mind:
Lilly - "I like to unwind by listening to music and playing with my nephew."
Chenai - "To relax and keep calm I either watch TV or talk to my little brother."
Anon - "Whenever I have a problem I talk to an adult in school or Mr Wakefield."
Reece - "I like to watch films to forget about my problems."
Thursday 4th October 2018
Today, 5/6 Chestnut have been looking at how to use the Bar Model to help them with reasoning and problem solving activities. Looking at the numbers we were using, the questions weren't too tricky - it was the methodology we were concentrating on primarily.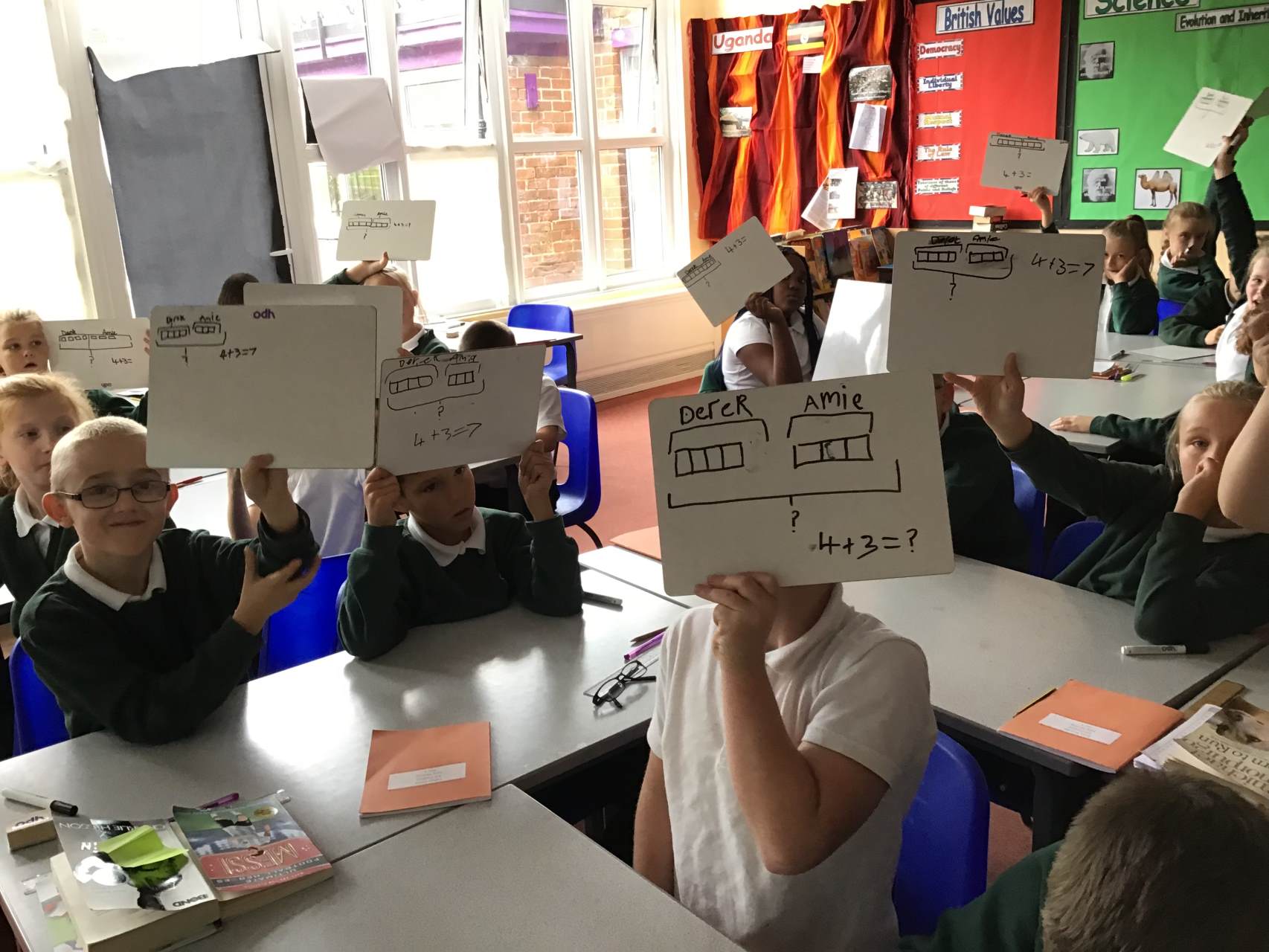 Some children were very excited about the prospect of using Bar Modelling with the more challenging questions!
Wednesday 26th September - International Languages Day
For International Languages Day, 5/6 Chestnut were tasked with finding out about the country of Uganda.
The children had a fantastic day and worked very hard all the way through. Most of the children even did their own research into Uganda, before and after our International Day.
We created mind-maps of all the information we had collectively found out about Uganda.
We then found and labelled Uganda and the surrounding African countries on a map.
We then looked at pictures from Uganda and compared Ugandan children, Ugandan classrooms and traditional Ugandan homes to what we know in England. What differences and similarities can you identify?
The children really enjoyed their day and presenting their research back to the rest of the school during assembly.
Thursday 20th September 2018
In maths, the children of 5/6 Chestnut were using resources to help recap subtraction of 3 digit numbers. We spoke in time and detail about the processes involved in 'exchanging' when we cannot perform part of a takeaway.
Friday 14th September 2018
As it was raining heavily outdoors, the children of 5/6 Chestnut participated in some team games inside the classroom for PE.
"We did lots of fun challenges. We had to work together as a team and communicate well with each other. Our team did good because we encouraged each other." - Chenai
"It was hard at first because we didn't know what to do but then we spoke to each other and gave everyone a job to do." - Joshua
"I was good at transporting the water because I kept my hand really steady. Our team did well when we spoke to each other. The hardest was when we weren't allowed to face each other. Lots of water got spilt then." - Tyler
Thursday 13th September 2018
A few photographs of the children using concrete resources to help them with their maths. In this case, the children were using homemade number lines to help them count on from, and to, negative numbers.
Wednesday 12th September 2018
Wow! Where has summer gone? What a fantastic few weeks we had off. I hope you have had a great break and that all of the children are enjoying being back at school.
Even though we've only been back a week, we've had a busy week together, getting to know each other and starting off the year working hard.
This year, Mr Sayles will be teaching 5/6 Chestnut for English Writing. They are currently doing work based on the book 'Sky Song' by Abi Elphinstone. They children have already been writing diary entries and describing winter landscapes.
Mr Wakefield will be teaching the children for the rest of the time. So far in Maths, they have covered reading, comparing,ordering and rounding numbers to 10,000,000.
In Topic, the children are looking at 'Frozen Kingdoms'. This is a topic all about the Arctic, the brave explorers who have been there, the climate, animals, habitats and lifestyles of the people who live there.