5 Sycamore
Welcome to 5 Sycamore's class webpage!
Here, you will find everything you need to know about what we will be learning and getting up to over the coming months.
Our learning journey is set to be one of high aspirations, where we never give up. After all, at Orchard Primary Academy, we like to........
Wednesday 22nd May
Outdoor learning day was a real success and we enjoyed every minute of taking our lessons outside and learning in the sunshine.
Thursday 16th May
Teddy bear's picnic lunch was a blast today-we were so lucky with the weather too!
Wednesday 15th May
We were fortunate enough to have CGL:The Base, come in and do some PSHE work with us today. We talked through some scenarios relating to the effects of drugs and alcohol and how to keep our selves safe from harm.
Friday 5th April
After a lot of hard work, our ancient Greek inspired mosaic tiles are now complete......
Thursday 4th April
In year 5 today we had our final forest school session, which meant roasting marshmallows round the camp fire. We loved every minute of it-especially when it came to eating them!!
Wednesday 20th March
Today was 'learn a new skill day'. We tried our hand at circus skills and origami-not at the same time though of course!
Friday 15th March
What a fun day we have had, taking part in Science Day.
We took a close look at microbes in year 5 and did an investigation all to do with sneezing. It was gross but super interesting!
Thursday 7th March
We had a wonderful day for World Book Day today. We were wowed with magic and wonder and loved reading with the children in year 2.
Tuesday 5th March
Happy Pancake Day Everyone!!
Friday 15th February
Today we had a super maths lesson, working on long multiplication. It's been tricky but we're finally getting to grips with it now!
Tuesday 5th February
Safer Internet Day 2019!
We learned all about the importance of giving consent and asking permission, when using the internet and social media.
We took part in a whole school assembly, did some internet safety drama scenarios and played some games, to check what we had learnt.
Friday 1st February
Today it was NSPCC Number Day. We spent the entire day doing different maths activities and showing our resilient side.
Tuesday 29th January
Today a member of the St John Ambulance team came to school. She taught us some essential first aid, so we know how to deal with potentially life-threatening situations and injuries. Miss Morley was really impressed because we were all so good at it.
Thursday 17th January
This afternoon as part of our art lesson we looked at some pictures of ancient Greek vases. We analysed and critiqued them and then drew our favourite one in our sketch books. Next week, we are going to be designing and making our own!
Friday 11th January
Today we went back in time for our ancient Greek theme day and had a visit from an Athenian lady and a Spartan warrior. We looked at Greek weapons, did some drama and tried some Greek foods too. It was an awesome day and one we will never forget.
Welcome Back!!
Happy New Year to each and everyone of you!
We in Sycamore, hope you had a magical Christmas and are looking forward to a 2019 to remember.
Our year is definitely set to be an action packed one and we can't wait-bring on the fun and the challenges!
Wednesday 12th December
Year 5 did us all proud today when they went to sing Christmas Carols at the residential care home-voices of angels, hearts of gold!
Monday 3rd December
Today has been such a good day, full of festive fun. We all wore our Christmas jumpers and did lots of Christmas craft activities. Then, to finish it all off we came together as school to sing Christmas songs and decorate our Christmas tree!
Thursday 22nd November
Some of our upper key stage two children getting involved during the Road Safety assembly led by the local police.
Wednesday 7th November
We had some special visitors in school today, who came from Dewsbury minster to talk about Remembrance Day.
We have been thinking about this in class too and completed some art work for them to display in the minster.
Monday 5th November
Today, in assembly, we launched the new text we will be reading in our English lessons in UKS2......
https://www.youtube.com/watch?v=xrBQXxu5Qy8&safe=active
Thursday 25th October
This half term we have been looking at the work of Henry Moore in our art lessons.
We loved getting stuck in today and making our own sculptures out of clay.
Friday 19th October
We have been getting ourselves ready for our maths lessons next week, by doing some pre-teach work with Miss Morley and Mrs Cardus.....
Can you guess what we will be doing?
Wednesday 17th October
ORCHARD AGAINST HATE DAY!
Today we are thinking about equality for all and living in unity with the rest of the world.
We looked at song in our guided reading session that sums this up wonderfully. We watched the music video, analysed the lyrics and discussed it as a class.
https://www.youtube.com/watch?v=WpYeekQkAdc&safe=active
Monday 15th October
Today we came to together as a school to discuss and celebrate harvest festival, which is a celebration of annual harvest. A time to be thankful for all that we receive and a time to give to those less fortunate than ourselves.
Wednesday 10th October
As part of our social, emotional, spiritual and cultural learning journey, we took a close look at mental health and how to keep ourselves mentally healthy.
We felt this was so important to be aware of, that we decided to share what we had learnt and spread the message to our friends across school and our parents by holding an assembly all about it.
Thursday 4th October
Today it is international poetry day and to mark this occasion we have been writing our own poems, all about changes. We decided to think about seasonal changes so we went on a walk round school to get some inspiration from our environment.
Outdoor Drama (28-09-18)
'When shall we three meet again?
In thunder, lightning or in rain?
When the hurly burly's done,
When the battle's lost and won.
Where the place?
Upon the heath,
There to meet Macbeth!'
We have been looking at Macbeth by William Shakespeare in our English lessons. We acted out the opening scene splendidly....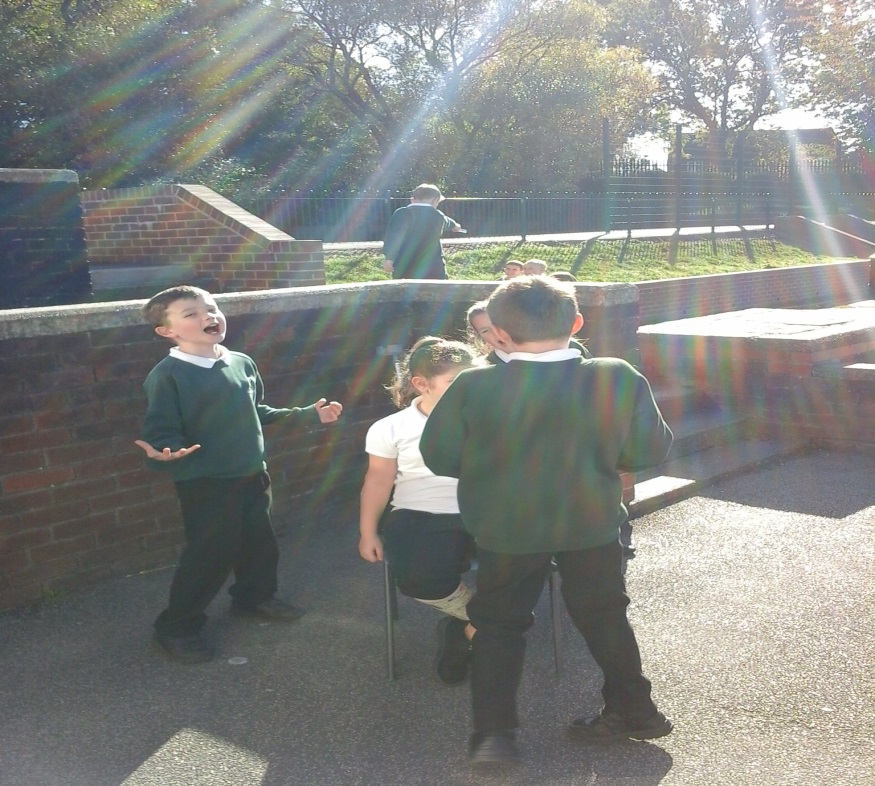 International Day (26-09-18)
To help us learn about the world around us, each class looked closely at a different country and completed work on it over the day. We then fed back to each other in a whole school assembly-It was great!
Our country was Switzerland! We learnt loads of cool things about it and did loads of fun activities.
We can't wait to go there when we're older now!
Thursday 20th September
We have so many opportunities to experience new things here at Orchard-today we watched a wonderful pantomime called the Little Princess!
There were so many different messages in it and we loved every minute....
Emma Bright and the Super Food Fight!
We were lucky enough to have an author visit us in school and carry out some drama workshops with us. Take a look at what we got up to....