5 Chestnut
Welcome to Chestnut class
Welcome to 5 Chestnut's Home Page. Here you will find lots of useful information you may need.
In Year 5, We incorporate Orchard's three curriculum drivers into everything we do.
Staff
This year, the staff in 5 Chestnut are: Mr Wakefield and Miss Berry.
(Images coming soon)
Important Information
PE
5 Chestnut have PE on Thursday mornings.
Although PE sessions will still be taking place, due to the recent pandemic, children will not be required to change into their PE kits.
Timetables
To access our timetable for Autumn, please click on the link below.
Newsletters
To access our newsletters, click on the links below. These will keep you up to date on our learning, special dates and reminders.
This half term we will be learning ...
English
To begin our writing this year, we will be using a variety of short films to recap basic skills, grammar, punctuation and content. Later in the half term, we will be basing our writing on a book called 'The Promise'. 'The Promise' is a picture book written by Nicola Davies and links to our topic on 'Protecting the Environment'.
Maths
In Maths, this half-term, we will be working on place value and the four operations. During Maths lessons, we will solve fluency questions, solve problems and reason using the facts we have learnt.
*Click on the image below to get up to speed on Year 5 place value*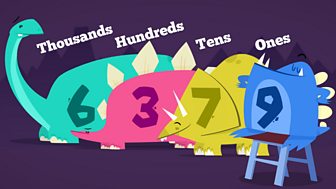 Science
Our Science topic this half-term is 'Classifying Living Things'. We will be taught a range of classifying strategies and use these to look for similarities and differences between a variety of living things, such as: humans; animals and plants.
Geography
Our Geography topic for Autumn 1 is called 'Protecting Our Environment'. During Geography lessons we will use maps and atlases to learn more about our local area and the wider-world. We will learn about recycling, long-term sustainability, mining and use of natural minerals, explore some of the ways in which our planet is becoming damaged and how we can begin to reverse these changes.
Art and Design
Our Art & Design will be linked closely to our Geography this half-term and looking at World Artists who were inspired by nature. We will look at artists such as Georgia O'Keefe, Frida Kahlo and Rachel Ruysch.
PSHE
Our first Jigsaw unit this year is called 'Being me in my world'. We will think deeply and sensitively about ourselves, our family, our friends and the wider community. We will consider our rights, our wants and our needs as human beings.
Computing
In computing, we are looking at Blogging: researching different blogs, finding out what a good blog contains and then editing and updating our own blogs on a topic of our own choosing.
Watch this space for lots of Year 5 blogging!
Author Focus
This half-term we will be reading 'Varjak Paw' by S.F. Said.
Varjak Paw is a Mesopotamian Blue kitten. He lives high up in an old house on a hill. He's never left home, but then his grandfather tells him about the Way – a secret martial art for cats.

Now Varjak must use the Way to survive in a city full of dangerous dogs, cat gangs, and strangest of all, the mysterious Vanishings...
To find out more about S.F. Said, have a look at his website by following the link below:
Home Learning Menu
Take a look at our updated Home Learning Menu - how many points do you think you will be able to score this half-term?
Please post any videos or photographs of Home Learning on our Twitter page: @ChestnutOrchar1
Links to try at home
Twitter Feed