5 Sycamore
Welcome to Sycamore class
Welcome to 5 Sycamore's Home Page. Here you will find lots of useful information you may need.
In Year 5, We incorporate Orchard's three curriculum drivers into everything we do.
Staff
This year, the staff in 5 Sycamore are: Miss Fenn and Ms Mitchell.
(Images coming soon)
Important Information
PE
5 Sycamore have PE on Friday afternoon.
Although PE sessions will still be taking place, due to the recent pandemic, children will not be required to change into their PE kits.
This half term we will be learning ...
English
This half term we will be beginning our writing with a focus on newspaper reports. These reports will link alongside of our History topic of The Vikings. . Later on the half term, we will be continuing working on a book-based approach to writing (using 'Snow" by Walter de la Mare). This is a classic poem which is revisited in a stunning fashion of a picture book that celebrates the wonder of snow.
Maths
In Maths, we will begin this half term looking at Addition, Subtraction and Statistics. In this unit we will learn to read and interpret line graphs; draw line graphs; use line graphs to solve problems and read and interpret simple and two-way tables.
Remember, your child can access TTR at home and should know their username and password.
*Click on the image below to get up to speed on Year 5 place value*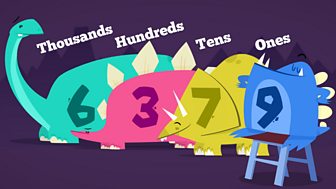 Science
Our Science topic this half-term is 'Material World'. We will be investigating how we group materials together based on their properties; we will be taught that some materials will dissolve in liquid to form solutions and attempt to recover substances from solutions.
History
In our History lessons this half-term we will be learning about...The Vikings! We will use our prior knowledge from Year 4 to develop our knowledge of the Viking period. Within this we will focus on the chronology of the Viking period and order key events during this time using timelines. We will explore the impact the Vikings had on Britain and look at what has changed and what has stayed the same between then and 2020.
Art and Design
Our Art & Design will be linked closely to our Geography this half-term and looking at World Artists who were inspired by nature. We will look at artists such as Georgia O'Keefe, Frida Kahlo and Rachel Ruysch.
PSHE
Our first Jigsaw unit this year is called 'Being me in my world'. We will think deeply and sensitively about ourselves, our family, our friends and the wider community. We will consider our rights, our wants and our needs as human beings.
Computing
In computing, we are looking at Blogging: researching different blogs, finding out what a good blog contains and then editing and updating our own blogs on a topic of our own choosing.
Watch this space for lots of Year 5 blogging!
Author Focus
This half-term we will be reading 'Varjak Paw' by S.F. Said.
Varjak Paw is a Mesopotamian Blue kitten. He lives high up in an old house on a hill. He's never left home, but then his grandfather tells him about the Way – a secret martial art for cats.

Now Varjak must use the Way to survive in a city full of dangerous dogs, cat gangs, and strangest of all, the mysterious Vanishings...
To find out more about S.F. Said, have a look at his website by following the link below:
Home Learning Menu
Take a look at our updated Home Learning Menu - how many points do you think you will be able to score this half-term?
Please post any videos or photographs of Home Learning on our Twitter page: @SOrchardpa
Links to try at home
Twitter Feed