EYFS : Maple and Hazel
Things have changed for children in the Early Years Foundation Stage at Orchard Primary Academy. We have moved into the main school building where we have our own special Early Years Unit.
Both the Nursery and Reception children are together and enjoying learning in our new area.
Welcome to the Early Years Foundation Stage
In the EYFS we believe that,
Our Class target is:
To remember to say please and thank you
Our EYFS mission statement is:
In the Early Years at Orchard Primary Academy, we aim to develop happy, confident children who achieve their full potential in a stimulating and challenging environment. We believe this is possible with staff and parents working in a friendly and supportive way.
Meet the EYFS Staff
Miss Murray - Maple Class Teacher and EYFS Leader
Mrs Birkett - Maple Class Teacher (Monday & Tuesday)
Mrs Earnshaw - Hazel Class Teacher
Mrs Broady - Nursery Nurse
Miss Cardus - HLTA
Mrs Rothery - ETA
Other Information
Follow the link to our timetable.
Some fun fine motor skill activities to try at home.
Welcome To Our Class Blog
Monday 8th July
Our butterflies have emerged from their cocoons and are happily exploring in their insect net. They have been practising using their wings and enjoying some sweet juicy orange slices. We will soon be releasing the butterflies into our playground together.
Monday 1st July
Today we had our EYFS sports day. We had a super time trying different sporting challenges such as obstacle races, bean bag hoop challenge and seeing how far we could throw a foam javelin. Thank you to all the parents and carers who came to cheer us on!
Friday 28th June
We have another new addition to the EYFS classroom! As part of our on going work on mini beasts and life cycles Sheldon the African land snail has come to stay with us! We are enjoying watching him, feeding him and finding out more about him from the information book in the investigation area of our classroom.
Monday 24th June
Our Caterpillars have grown so much since we got them! We are really enjoying watching how they are growing and changing. We have been thinking carefully how we can keep them safe and look after them until they become butterflies.
We have an investigation station in the classroom where we can learn more about life cycles and take time to carefully look at our caterpillars growing and changing with magnifying glasses.
Wednesday 19th June
Today Hazel and Maple class have received a special delivery! We have got 5 caterpillars, we are looking forward to caring for them and watching them grow into beautiful butterflies. We have enjoyed sharing together the story of The Hungry Caterpillar.
Wednesday 5th June
What a wonderful day we have had on our EYFS trip to Filey! We had a picnic under the large tree and then we walked down to the beach where we began to play straight away, we built sandcastles, buried our feet in the sand and dug holes to find buried treasure! We even had an ice cream on the beach! We had a try at paddling in the sea, it was freezing but so much fun!
Wednesday 22nd May
Today it was 'outdoor learning day' for the whole school. We learn outside all of the time but we still joined in with the fun! We enjoyed both snack time and maths outside. There were lots of interesting activities outside for us to have a go at. Our favourite activities include making our own perfumes and experimenting with bubbles!
Monday 20th May
Today we have been learning about 'adjectives'. We learnt that they are describing words and that we can use them to make our sentences more interesting and describe things in greater detail using them. We added our new word to the tiered vocabulary display and then we worked hard to use lots of adjectives to describe the Giant who lives at the top of the beanstalk!
Some of the children then went on to turn the adjectives into a descriptive piece of writing about the Giant. Here is a look at some of our awesome writing! Well done EYFS!
Thursday 16th May
Today we had a picnic outside on the playground, it was a special theme day! When we went to get our lunch it was in a special bag with a sandwich, crisps and a bun! We loved having a picnic outside altogether today!
Tuesday 14th May
Wow! What an exciting morning in EYFS! When we arrived at school today the beans that we planted yesterday had grown into a massive beanstalk that reached right up to the ceiling of our classroom! We are all wondering what is at the top of the beanstalk. Some children thought there might be a castle and some thought it would lead us to the clouds. A few children thought there might be a giant at the top of the beanstalk!...Does that remind you of a story that you know?
Monday 13th May
Mr Carbutt was given some beans by an old man he met but he wasn't sure what to do with them so he passed them onto us, as we have been learning about what plants need to grow. So today we planted them in soil and watered them and left them in the sunlight. I wonder what will grow?
Tuesday 7th May
As part of this half term's topic on growth we now have our very own flower shop role play area. The children are enjoying choosing and paying for flowers. The children have also enjoyed taking it in turns to be the shop keeper and working out how many pennies they needed to pay for the flowers. This also ties into our maths work of recognising the different coins, which is worth the least and the most and how many pennies we need to make a certain amount.

Thursday 11th April
Today we held another successful open morning all about Easter. There were lots of different activities to do including decorating hard boiled eggs, solving addition and subtraction problems with chicks, putting Humpty Dumpty together again and making Easter cards.
Thank you to all the parents who came!
Tuesday 9th April
We arrived at school this morning to discover a crime scene waiting for us! We needed all our detective skills to try and work together to solve the mystery of what has happened to poor Humpty Dumpty?
We practised the nursery rhyme together and sequenced the order of the events together. We then used our talk partners to discuss what we think might have happened to make Humpty Dumpty fall from the wall. Here are the children's ideas!
Monday 8th April
Something very exciting has happened over the weekend in EYFS...our dinosaur eggs have hatched! We have 2 baby Parasaurolophuses to care for, Don't panic they are herbivores!
We have talked about how we need to care for the baby dinosaurs now that they have hatched. Maple class have a girl Parasaurolophus and the Hazel class have a boy baby dinosaur.
Every child has brought home a sheet to write on what they'd like to call the dinosaurs. Please bring it back tomorrow so we can choose names together from the children's ideas. Thank you!
UPDATE!!!
The dinosaurs have been given names, the boy is patch and the girl is called Isla! Thank you for all of your ideas.
We are going to take great care of our baby dinosaurs. They are going to start going home with everyone in each class. Over the Easter holiday Mrs Earnshaw and Miss Murray will be looking after them.
Monday 1st April
This morning we have been on a dinosaur hunt in the school grounds. We made maps, binoculars and telescopes to take with us to help us in our search. We went through a big muddy swamp, splosh! splosh! splosh! Across a wide river, swim! swim! swim!. Eventually we came to a tropical rainforest with giant, weird plants, slash! slash! slash! ... until we found a giant egg!
The children were full of brilliant ideas as to where the egg might have come from and what we should do with the egg.
Esme " We need to look after it!"
Bobby " We need to take it inside and keep it warm in a nest!"
Lewis "A T-Rex has been here and left it!"
Anakin -J " We need to wait for it to hatch all by itself"
In the afternoon, we worked together to make a nest for the egg to protect it and keep it warm. Call into our classroom and come and see the nest for yourself!
The children enjoyed building their own nests in the outdoor provision collecting natural materials such as grass, leaves and twigs to keep the eggs warm and safe until they hatch.
Monday 25th March
Today we have listened to a new story based on the book 'We're going on a bear hunt' by Michael Rosen called 'We're going on a dinosaur hunt'. We loved adding the actions and joining in with the repeated language. We really enjoyed pretending we were setting off in a time machine back to the land of the dinosaurs. We all joined in with cutting our way through a tropical rain forest and sploshing through a big muddy swamp, it was really good fun!
Thursday 21st March
Today the Rapide Brothers visited school to teach us lots of different circus skills. First we watched them show us a range of different skills and then we all had a go! The small bike was particularly tricky, especially for those of us still learning to ride a bike without stabilisers.
Monday 18th March
Today in our phonics lesson we learnt a new sound, we learnt the sound 'ar'. This is a digraph, that means 2 letters that work together to make 1 sound. We blended to read words with the 'ar' digraph in them and then we practised writing words the sound in words like 'bark', 'hard' and 'park'. Finally at the end of the lesson we applied what we had learnt to write a sentence about the park. We even did some peer work to check our sentences at the end. Super phonics today everybody!
Our learning about our new digraph didn't stop there as we consolidated our learning by reading and writing in the outdoor environment later in the day!
Friday 15th March
Today was science day at school, we had a great time exploring colour. We did a colour mixing and a skittles experiment. We talked about what thought might happen and made predictions, we loved finding out if we were right!
Friday 8th March
On Friday we travelled to Bradford to the National Science and Media museum. When we got there we went to the cinema to watch walking with dinosaurs in 3D, it was amazing! We listened to a story about fairies in the enchanted wood and we learnt about light sources and shadows. We had time in the Wonderlab to perform our own scientific experiments, we got a UV tattoo and made our own moon sand! It was such a busy and fun day that some of us even fell asleep on the bus on the way home!
Thursday 7th March
Today we have celebrated world book day in school, we loved coming dressed up as different book characters. Our whole school book theme was 'Room on the Broom' written by Julia Donaldson and we celebrated all things magical! We even had 'Magic Tom' the magician who came to visit our classroom to show us some magic tricks. One of the tricks was making different lengths with rope, it helped us to use our mathematical knowledge to order the lengths of rope and use mathematical language such as longest and shortest and positional language such as under, in , on top and next to.
Tuesday 5th March
What an exciting morning in EYFS! When we arrived at school this morning there were some giant footprints left in our classroom and a muddy trail that led to some clues outside! We have had great fun wondering what or who has made the giant footprints and looking through the palaeontologist's bag full of clues! The children were all so excited and engaged in their learning.
We also found a new dinosaur den for us to role play in and we read together the story ' How to grow a dinosaur!' by Carol Hart and Ed Eaves.
Pancake day!
We also had pancakes today for Shrove Tuesday as part of our snack in EYFS. We had a choice of toppings on them and they were delicious!
Monday 4th March
We have been playing at being sound detectives in our phase 1 phonic session this morning. We learnt a new sound 'd', here we are hunting for things that start with that sound in the sand and practising forming the letter in the sand. We tried our best to make sure we were holding our paintbrush with the correct grip before forming the letters.
Before we used our paintbrushes in the paint with paper we had a dough disco session to warm up our fingers and stretch them all out ready for our mark making time.
Monday 25th February
Welcome back everyone, we hope you had a lovely half term holiday!
Today we have been learning all about the number 9 in our maths lesson. We are working on recognising and representing the number 9 in our maths work. We have been using the language of addition when working out the different ways of representing 9 with numicon plates and showing this on a tens frame.
Thursday 14th February
This morning's maths stay and play was a great success! Thank you to all parents and carers who joined us. We played number games, bingo and completed number jigsaws. We showed our parents and carers just how much we have learnt about numbers by making some number fact posters. We love maths!
Wednesday 13th February
What a fun afternoon we have had in EYFS we worked on our fine motor skills with dough disco and finger exercises. Once our fingers were warmed up for writing we practised our letter formation.
We took our PE outside as it was such a nice afternoon and we played traditional playground games; the farmer's in his den, ring o' roses and here we go round the mulberry bush.
Here we are having great fun playing 'what time is it Mr Wolf?', using our number recognition and counting skills to count out the right number of steps before the wolf (Mrs Birkett) tried to gobble us up!
Tuesday 12th February
Our EYFS staff were hard at work on Friday when school was closed to children because of the burst water pipe. They were busy creating some great new outdoor learning areas for the children to investigate.
The children have loved learning in our new water area, creating runways for the water using pipes and using the containers to fill and pour. The new different sized brushes have been a big hit for role playing and mark making.
We have also enjoyed problem solving to order the numbered clothes on the washing line using our super maths knowledge!
Monday 11th February
In our phase 1 phonic session this morning we were focusing on hearing the sound 'i' and 'n' at the beginning of words. We then had a go forming the letters in the sand using paintbrushes, we had to practise our 'pincer grip' to hold the paintbrush correctly before forming the letters.
We practised our fine motor skills by using our paintbrushes with paint on large sheets of paper making sure to use the right grip to make the different types of brush strokes on the paper.
Thursday 7th February
Today we learnt all about Chinese New Year, we learnt about how Chinese people celebrate this special occasion and that their are many similarities to Christmas celebrations.
We did lots of different activities including learning a dragon dance, making Chinese lanterns, writing Chinese numbers and finding out which animal year we were born under.
Monday 4th February
5, 4, 3, 2, 1 Blast off!
This week in EYFS, as part of our on going space theme, we have our very own space station role play area. The children are enjoying dressing up as astronauts, pressing the buttons and looking for planets through the rocket windows. We have been writing about what we would pack if we were heading to the moon and later in the week we will be reading information to learn all about the planets. Maybe you could do some star gazing and talk about what you can see in the night sky with your child.
Friday 1st February
We had lots of fun on NSPCC number day! We played lots of different number games in the hall and in the ICT suite. Here we are problem solving to get the right number of children sitting on the mat when the music stops. We worked really hard as a team and were resilient when we found the problems tricky!
Monday 28th January
Beep Beep! All aboard the EYFS bus!
We have a new bus role play area in our classroom, we have been enjoying taking it in turns to be the bus driver, collect the tickets and being the passengers on the bus. We have looked at maps of the bus routes and rung the bell when it's been our stop to get off. We have enjoyed using our imaginations and talking about all the things we can see out of the window on our bus journey.
We have used buses in our maths work as well to help us add and subtract single digit numbers. We have been working out how many people are on the bus altogether if more people get on and how the number changes if some people get off the bus. We even had a go outside with chalks to draw the bus and record the number sentence.
Tuesday 22nd January
In EYFS we are working really hard on our blending skills to be able to read words. We have lots of reading challenges going on inside the classroom and outside of the classroom. Here is a look at some of the reading challenges that the children have been having a go at outside the classroom. We have been rolling dice and reading the action we have to do, jumping in hoops to blend to read words and reading and recording words in icy glitter.
Monday 21st January
We have been reading the story 'Whatever Next' in EYFS about a baby bear that flies to the moon to have an adventure, all before bath time!. We have learnt 'talk 4 writing' actions to retell the story in our own words. the actions and the pictures help us to remember everything that happened in the story. Here some of us are telling the story to our friends using the actions and the pictures.
Monday 14th January
As part of our phase 1 phonic lessons the nursery children have been listening to sounds at the beginning of words and trying to hear the differences in these sounds. We had a treasure hunt today in the sand. The children loved hunting for objects and pictures and listening for the sound they start with. We sorted the different sounds we could hear and then we used the sand to practise our fine motor control by having a go forming the letters in the sand.
Tuesday 8th January
Happy New Year to all our parents and Carers! Today we welcomed back all the children after the Christmas holidays it was lovely to see them and hear all about their holiday news.
Following on from the children's interests, we have created our very own Orchard hairdressers within the classroom provision. It has proved a really popular role play area today and the children have loved answering the phone, booking appointments and brushing and styling each others hair!
If you fancy a new hairstyle for January then why not book in!
Tuesday 11th December
The kindness elves, who are visiting our classroom, were so pleased with our fantastic Christmas card writing on Monday that they have made us our very own Santa's workshop in our classroom. There is a place to design toys, make the toys and a wrapping station with gift paper, ribbons and labels. We have loved having a chance to be one of Santa's elves today!
Monday 10th December
What a lovely festive day we have had in EYFS! We started the day with our grown ups being invited to stay for a Christmas card writing morning. Thank you to all the parents and carers who stayed to write with the children. There was lots of fantastic writing happening all around the classroom and we loved posting our cards in the post box or delivering them ourselves to our friends.
Later on in the day, Lillie's dad, Vicar Andy, came to visit all of our children to share the story of the very first Christmas with us. We all listened really well and enjoyed learning about the nativity story and why Santa gives presents to us at Christmas.
Monday 3rd December
What a fun day we have had in EYFS! We all wore our Christmas jumpers and did lots of Christmas activities. Then in the afternoon we went to the hall with the whole school to sing Christmas songs together and decorate the Christmas tree with the decorations we had made. Thank you to all the parents who came along to watch us and sing with us, we hope you enjoyed it too!
26th November We're going on a shape hunt!
This week in EYFS we are learning all about shape. Today we went on a shape hunt around school. We found shapes, named them and talked about their properties.
Why not go on a shape hunt around your house! What different shaped objects can you find? Can you name them? How many sides do they have? Are the sides straight or curved?
19th November the 3 little pigs
As part of our topic work about homes we have been reading the story of the 3 little pigs. Here are some of the activities the children have been accessing around the classroom.
6th November: Visit From The Dewsbury Minster Reverend
Today we had a special visitor in school, the Reverend from Dewsbury Minster. He came to speak to us about why we wear poppies. We learnt about remembrance day and how the poppy symbolises those who sadly lost their lives. We also gave the Reverend our poppy we had made together, to display in Dewsbury Minster.
5th November: Bonfire Night
The 5th of November is Bonfire Night. We shared some of our experiences of visiting bonfires and seeing fireworks light up the sky. This week we are doing activities based all around Bonfire Night, talking about the different sounds the fireworks make, learning a Firework Rhyme and creating our own firework pictures. We also learnt about the importance of staying safe on Bonfire Night. Here are some important safety tips we're going to follow:
26th October: Halloween
We have had such a fun week celebrating Halloween. We have done lots of spooky activities and looked at the rhyming story 'What's In The Witches Kitchen'. We ended our week dressing up in Halloween outfits and going to the Halloween disco.
19th October: Funny Bones
This week we were introduced to a new story 'Funny Bones'. We loved listening to the story and joining in with the repeated phrases and scratching our heads! We had lots of Funny Bones activities around the classroom to engage with too. Here are some pictures of our Skeletons, we even labelled them with the different body parts!
16th October: P.E
This week in P.E we had fun playing some listening games like the Traffic Light game. We also experimented moving around the hall like different animals, using our listening skills to listen our for the different names of the animals. We have also been developing our gross motor skills, playing 'Roll roll roll the ball'.
9th October Developing Our Fine Motor Skills
We are working hard every day to practise our fine motor skills so that we can develop our skills in holding and controlling a pencil for writing. Here is a sneak peek at some of this afternoons activities.
We explored the Autumn objects and used tweezers to collect the conkers. They were tricky to hold onto sometimes but it helped us to build strength in our hands, wrists and fingers.
.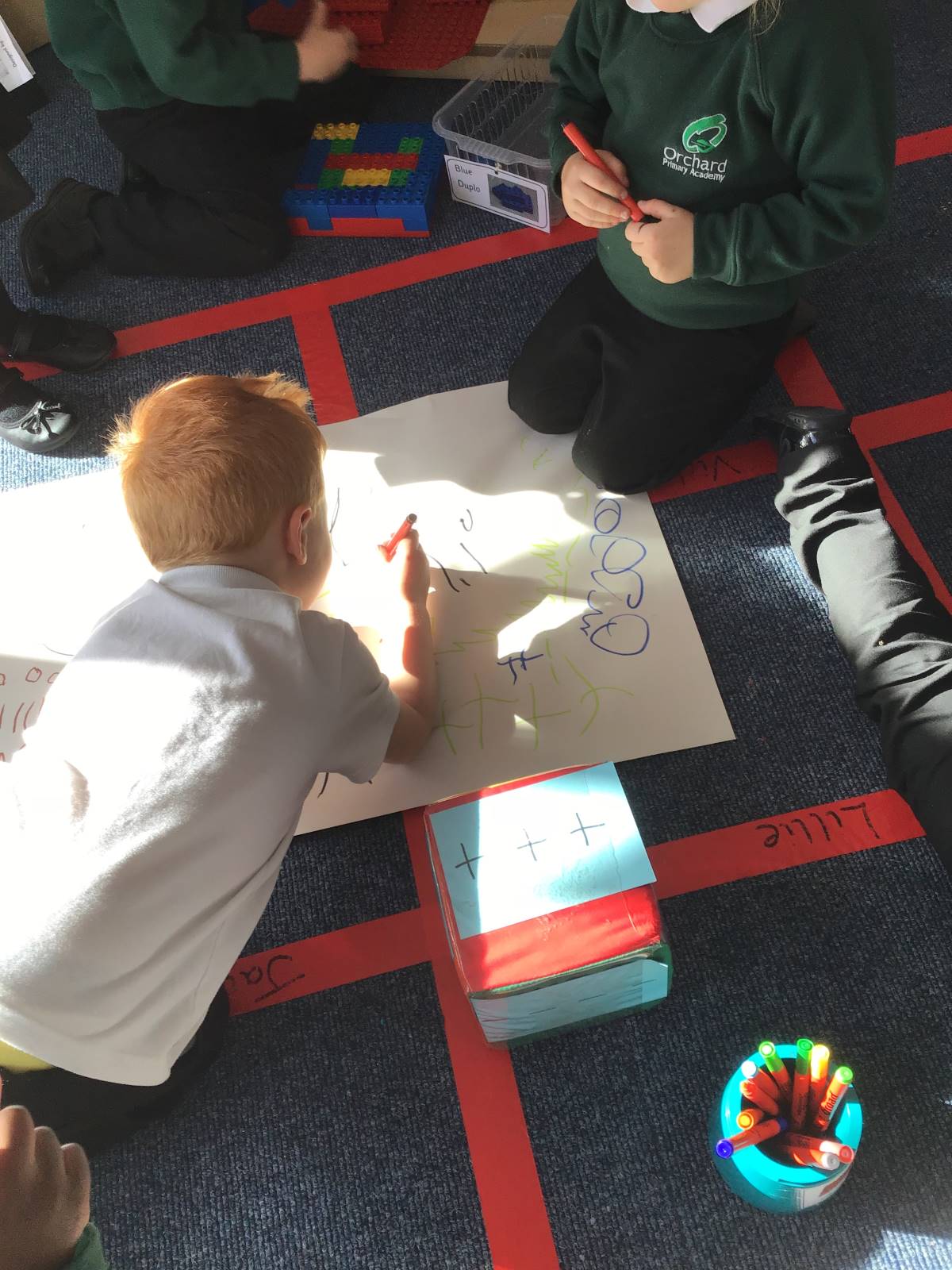 We rolled the dice and copied the pattern.
We concentrated on holding our pencils correctly.
9th October Birthday Fun!
Linked to our topic 'All about me' and the children's own interests, they have been enjoying pretending to bake cakes and buns in the malleable area. The children have looked at different cake designs, recipes, added candles and had a go at recording their own recipes. there has been lots of singing the happy birthday song and blowing out the pretend candles!
2nd October Bedtime Story Day
Thank you so much to the parents and carers who joined us today for Bedtime Story. The children loved having you here.
After a short workshop for the parents and carers, about how we teach phonics and reading, they were able to watch their child take part in a phonics lesson.
"Today has been amazing. I found it very good to see what Jamie is doing. Also, I found the phonics session really knowledgeable, to see how it's done and how they learn. Would be nice to do it again."
Rebecca - Parent
We enjoyed reading lots of stories together and really celebrated a love of reading.
Please click this link to access the Phonic leaflet.
1st October Owl Babies
As part of our All About Me and Families topic, we are reading the story Owl Babies.
Here are some of the activities the children have been accessing.
26th September World Languages Day
We learnt all about Kenya on World Languages Day.
We started our day pretending to jump on an aeroplane and fly to Kenya, we found it on the map so we could see how far away from Chickenley it is.
We discovered that parts of Kenya looked very different from Chickenley, it was very sandy with huts instead of houses and mountains around. There are also very different animals living there, the kind that we can only see in zoo's. But in the capital city of Kenya, Nairobi, the houses are more like ours and there are more big buildings.
We had great fun practising our skills on the African drums and trying to copy a beat and create our own.
The Next day Harvey asked what we were going to do that day. Miss Murray asked Harvey what he would like to learn today. He replied, "Same as yesterday." Miss Murray asked Harvey what the favourite part of his learning had been from World Languages Day and he said, "playing the drums in assembly, can we do that again?"
A giraffe by Isaiah age 4
20th September Rainy Day
What a perfect way to explore our new outdoors area and have fun in the natural environment.
This puddle is very deep!
A great way to explore colour mixing.
It's changing colour...blue and yellow make green.
We got the chance to test our mud kitchen out properly.
18th September Team Building with the Parachute
We had great fun playing games with the parachute. We practised our listening skills and worked on following instructions.