Phonics
Intent
At Orchard Primary Academy, we are passionate about ensuring all children become confident and enthusiastic readers and writers. We believe that phonics provides the foundations of learning to make the development into fluent reading and writing easier. Phonics is the process that is used to help children break down words into sounds, as well as building letter and word recognition. This can then enable children to use unknown words in the future. Children learn to segment words to support their spelling ability and blend sounds to read the words.
Implementation
At Orchard Primary Academy, we follow the guidance and approved document, 'Letters and Sounds'. This document supports our children in progressing through the phonetic stages from Nursery to Year 2, providing a secure basis for reading and writing as they move into Key Stage Two. In Nursery, Reception and Key Stage One, children are taught in groups to ensure that we are meeting the needs of all children. However, they are also exposed to sounds during any writing or reading activity when in their classroom environment and daily lessons.
Letters and Sounds aims to build children's speaking and listening skills in their own right as well as to prepare children for learning to read by developing their phonic knowledge and skills. It sets out a detailed and systematic programme for teaching phonic skills for children starting by the age of five, with the aim of them becoming fluent readers by age seven.
Click here to download a Powerpoint of how to say each sound
To see how to pronounce each sound, we have created a video for the phase 2 sounds.
To see how to pronounce each sound, we have created a video for the phase 3 sounds.
What Are Phonics Phases?
The 'Letters and Sounds' document and progression is split into six phases. These phases include an important, developmental need to ensure that our children hear sounds to then be able to segment to blend them for reading and writing. They are;
Phase 1 – Activities are divided into seven aspects. Environmental Sounds, Instrumental Sounds, Body Sounds, Rhythm and Rhyme, Alliteration, Voice Sounds and finally Oral Blending and Segmenting.
Phase 2 – Learning 19 letters of the alphabet and one sound for each. Blending sounds together to make words. Segmenting sounds into their separate sounds. Beginning to read simple captions.
Phase 3 – The remaining 7 letters of the alphabet, one sound for each. Graphemes such as "ch", "oo" and "th" representing the remaining phonemes not covered by single letters. Reading captions, sentences and questions. On completion of this phase, children will have learnt the "simple code", i.e. one grapheme for each phoneme in the English language.
Phase 4 – No new grapheme-phoneme correspondences are taught in this phase. Children learn to blend and segment longer words with adjacent consonants, e.g. swim, clap, jump.
Phase 5 – Now we move on to the "complex code". Children learn more graphemes for the phonemes which they already know, plus different ways of pronouncing the graphemes they already know.
Phase 6 – Working on spelling, including prefixes and suffixes, doubling and dropping letters etc
During these phases, children are introduced to a range of new vocabulary such as split digraph and phoneme. For more information on the vocabulary and the definitions, please click here.
What are "Tricky words"?
Tricky words are words that cannot be 'sounded-out' but need to be learned by heart. They don't fit into the usual spelling patterns. In order to read simple sentences, it is necessary for children to know some words that have unusual or untaught spellings. It should be noted that, when teaching these words, it is important to always start with sounds already known in the word, then focus on the 'tricky' part.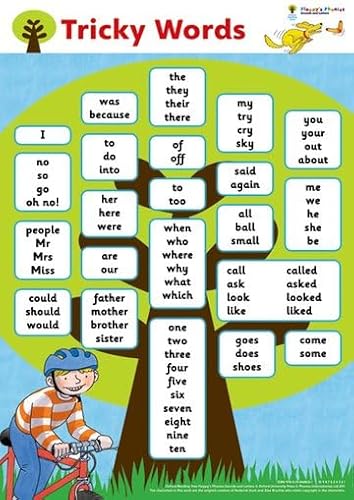 What are High Frequency words?
High frequency (common) are words that recur frequently in much of the written material young children read and that they need when they write.
To support with reading tricky words at home, please click here.
Our children complete daily phonics lessons at the beginning of the day so that they can apply their learning into other lessons across the curriculum and learning day. The length of the lesson varies according to the age of the children, the type of application and the concentration levels. In Reception and Key Stage One, we have invited two phonics sessions into our timetables. These sessions split the reading and writing aspect to ensure that we are meeting the needs of both elements. Where children can not access 'Letters and Sounds', we have daily interventions including flash cards and Direct Phonics.
In the classroom environments, we have set high expectation of ensuring that our children have the resources around them to apply their phonetic knowledge. In Nursery, Reception and Year 1 it is expected that there is a phonics area where children can apply their learning from that day. Furthermore, in Nursery and Reception, other areas of provision have key vocabulary, sounds and books to support their phonetic knowledge. Key words, such as tricky words, are located in areas, corridors and cloakrooms so that children are exposed to these words consistently.
As well as learning a range of different sounds, children also learn nursery rhymes from Nursery. The nursery rhymes they learn are ones which support our curriculum and those that are repetitive to support early language skills. Nursery rhymes are changed every two weeks, are sent home to learn and sung daily in the classroom. Parents are also invited into to listen to these been sung on a termly basis.
Our assessment procedures for phonics ensure that our children are progressing as well as retaining those sounds that they have already been taught. Children are assessed half termly to ensure that they are progressing every 5 weeks when in school, but also to ensure that where there is a learning need, this is met through intervention, support in class as well as at home.
Application of phonics is accredited at Orchard through daily reading and writing lessons. To support our reading, we have invested in a range of fiction and non-fiction reading books where children can apply their phonetic knowledge and decoding skills to ensure that they become fluent readers.
Impact
Children at Orchard will be able to;
Recognise a range of single, digraph and trigraph sounds.
Have a great, secure understanding of key vocabulary relating to phonics (trigraph, grapheme…)
Know a range of nursery rhymes.
have the skills to decode words in order to be able to read fluently with a secure understanding of what they have read.
Apply their knowledge of phonics to statutory assessment, including the phonics screening tests guided by the government.
Websites to try at home